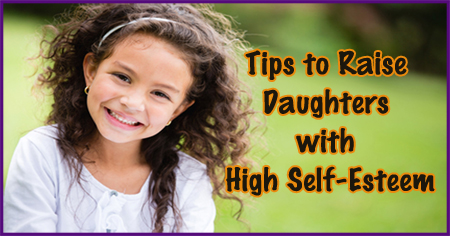 Gone are the days when girls were treated as helpless little beings or the weaker sex. It is time to boost confidence of your daughters and raise them with high self esteem. Start empowering your daughters right from early childhood.
When you have a daughter, you want to surround her with sufficient meaning in her life and help her develop a strong sense of self. In fact you can build in confidence in your daughter with the help of simple day to day routine.
Raising daughter with high
self esteem
is not easy. But as a parent you possess great influence and you can keep a check on what you say and what you do. Your daughter can have a different mindset regarding failure or losing if you raise her in that way. Children who are brought up having a growth mindset consider failure as a chance to do better.
Why Self Esteem is Important?
Girls with high self esteem believe in themselves to achieve any kind of goal and have confidence to face different types of challenges.
Girls
with high self esteem grow with strong feelings of self growth and develop an ability to make friends with people who would support and encourage them. On the other hand, girls with low self esteem often end up having toxic relationships throughout their lives. There are number of ways in which parents can help develop self esteem in their daughters.
Tips to Help Develop Growth Mindset in Daughters
Here are some tips for raising daughters with high self-esteem.
Praise the Right Thing
No matter whether your child gets an A Grade or C Grade, you should concentrate on what she has learned in school. If your child is unable to cope up a challenge, you can support her saying that trying is more important than winning.
Encourage Exploring Activities
If you find that your daughter is interested in activities that are traditionally reserved for boys, you should encourage her to explore them. You should be ready to cross the restricted gender lines when it comes to sports and other outdoor tough activities. Remember one thing girls are no less than boy in any means.
Tell Her That You Believe in Her
Both girls and boys want
praise from their parents
. Always keep in mind that your words will encourage your daughter and will help her performance in school as well as at home. Make sure your daughter knows you love her no matter what.
Appreciate Her Ideas
Even though girls like to be praised of their appearance and beauty, you should always praise her skills and ideas. Encourage her to discover
unique talents
and skills in her. Make sure you do not become an overprotective parent.
Model the Right Image and Behaviour for Your Daughter
Most often mothers who are not happy with their body or image, their daughters also develop the same type of thinking. Do not forget that you are the role model of your daughter and you are writing the blank slate who she is. So, model self acceptance and self esteem in your life so that your daughter develops and grows up with high self esteem.
Make Your Daughter Media Literate
If you will watch TV with her and discuss what you see, it will help her develop a critical vision of filtering the messages conveyed through different media.
Do not be
overprotective
especially when it comes to raising a daughter. Do not consider your daughters as just a fragile and delicate being. Well, instead of feeding impractical things in your daughter's mind, give her the opportunity to develop her skills and talents in different fields. Make a sincere effort so that you can raise her into a powerful woman.
How can parents help develop confidence in their daughters? How should parents encourage daughters? How can mothers be a role model for their daughters? Discuss here.