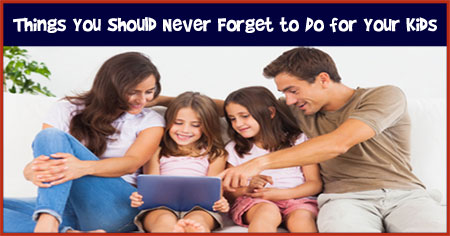 Keeping in mind the well being and security of children parents need to do certain thing without fail. Here are some things you should never forget to do for your kids.

As a parent you are probably doing your best to provide for your children materially as well as emotionally. However, in this competitive world it is very easy to get side tracked into pursuits that distract you from understanding what your kids really want and expect from you. Here are the most essential things that parents must never forget doing for their kids.
Demonstrating Affection
Almost every parent on earth loves his or her kids but not every parent can or does express affection the way kids want it. Children crave demonstrative affection like
hugs
, kisses, cuddles and handshakes and pat backs (as they grow older). No matter how busy your schedule might be, you should always pick out some time to demonstrate affection towards your kids. There are so many benefits of demonstrations of parental love that its importance cannot be overstressed.
Taking Care of their Safety
It is your ultimate responsibility to ensure the well being of your child. Your kids are vulnerable to accidents, injuries,
molestation
and so many other evils. Make a point to teach your kids
safety
rules and reactionary measures to take when they are hurt or injured. Spend 15 minutes in a day every day to teach them skills that will help them stay safe.
Do Financial Planning for Them
Financial planning for children can help to secure their future. It is essential for every parent to save for his or her child's higher education. Such planning can let children pursue studies in the desired field without facing any financial problems. You can use our Child Education Planner tool to calculate the cost of education of your child so that you know how much you need to save. To use our Cost of Education Calculator
click here.
Building their Moral Fibre

Children are like clay vessels at the potter's wheel and they can be moulded into whichever direction their parents choose. Never forget to teach your kids the principles of honour, integrity, justice and honesty as these will become the pillars of their character. Each day quote a small story to your kids about the importance of becoming a good human being.
Be Respectful

Many parents forget that kids have a mind of their own with sensitive feelings and defined thought processes. Using harsh disciplinary measures like shouting, verbal abuse or corporal punishment hurts the emotions of children and turns them against their parents. However, bad the situation might be, it is important for parents to be respectful to their kids.
Practice What You Preach

Children automatically hold up their parents as
role models
. If you forget to practice what you have preached to your kids then you can be rest assured that your kids will never learn from your lectures. Kids can smell hypocrisy from a mile away and it will only lessen their regard for you when they find out that your actions differ considerably from your words.
Take Your Meals Together

Each day make sure that you at least have one meal with your kids. Eating together strengthens the family bond and it gives you the chance to interact more with your children while learning about what is going on in their lives.
Eating dinner together is a ritual that you must never forget to do even if you are very involved with your work life. As your kids grow older this practice of eating together will keep them grounded and well connected with you.
Pray Together
Each day have a small ritual where you and your family offer their thanks to God for his blessings. The prayer ritual can be as small as saying Grace before meals or praying before bedtime. All that matters is that you inculcate faith and belief in God in the minds of your children. Pray together with your children each day as this will help them become better individuals.
These small things that you will do every day for your children will build up their love and faith in the family unit. Your kids will feel happy and secured and they will in time grow up to adults with lovely souls.
Which things should parents do for their kids every day? What are the important responsibilities of parents? How can parents raise their kids into well balanced individuals? Discuss here.