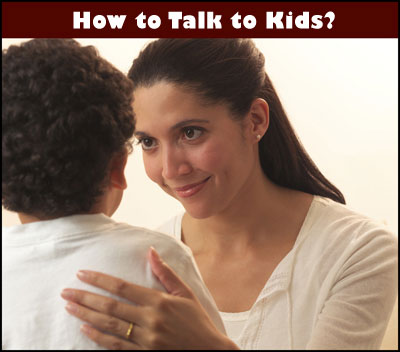 Parents should talk to kids in right manner so that they listen and do not feel any hesitation while discussing their problems. Talking to kids properly is also very important to avoid communication barriers which will help to prevent kids from keeping secrets. Read on to know more.
Communicating with kids is an art in itself. Many parents find it difficult to talk to their children or even understand them. Sometimes your children may not even understand what you are trying to convey to them. Most of the conversations end up in a fight or the child getting violent and not responding at all. As a parent you cannot be aggressive with the child. Talking to kids indeed is a very challenging task. It requires lot of patience in understanding them, go down to their level and communicating with them effectively. Though there are no hard and fast rules as to how to talk to kids, there are many ways which will help you in communicating with them and getting a positive response.
Always Use Simple Words and Language
Do not use lot of words while you are talking to your child. Your child might get confused. Remember he or she is very small to think like an adult. Put yourself in his or her place and think like a child and keep the conversation as simple as possible. Pause in between and give him or her time to think and respond. Do not try to hurry up in getting a response from him or her. A child gets bored by long speeches and explanations; so go slow and use simple and easy language which he or she can understand clearly. Most importantly make your conversations short.
Be Confident as a Parent
It is very important that you appear to be a confident parent before your child even if you are not. Be assertive and do not mumble with words. For a child to feel secure and open up freely, you as a parent should be confident enough. Take charge of the situation and let the child feel that he or she is in safe hands. This will also help him or her to grow up as a confident person.
Be Positive
Encourage the child and have a
positive approach
. Be kind to him or her. Make him or her feel important. Use positive words. Avoid criticising him or her.
Praise
him or her first for his or her good deeds before telling him or her where he or she went wrong. Your kid will be more confident, happy and get positive vibes from you. Show interest in him or her and listen to him or her when he or she is talking.
Call Him or Her by His or Her Name
Hearing one's own name is the sweetest thing for any person especially for kids. Always address your child by his or her name. This will also make him or her feel more important. You are sure to get his or her attention when you call him or her by his or her name. Your sentences can begin with his or her name followed by your request.
Try to Relate or Connect With Your Child
Effective communication is possible if you develop an emotional bonding with your child. Relate to him or her and make sure that you able to make eye contact with him or her first. You must get the attention of your child before you speak to him or her. This way he or she will learn to be more focused. Also, try to be a good listener and do not be judgmental.
Set a Good Example
Your children look up to you for many things. They imitate their parents very easily and also pick up the
habits
of their parents very fast whether good or bad. So, it is very important that you as a parent are responsible enough for your actions. You are the
role model of your child
. Set a good example before him or her. Be responsive enough and listen to your child when he or she talks. Give him or her full attention and respect his or her feelings. Give him or her opportunity to think and take decisions. Never ever ignore him or her no matter how busy you are.You must always speak softly with your child. Never be ruthless or use harsh words while talking with children as it can affect their self-esteem and confidence. Talking to kids nicely is very important to strengthen parent-child bonding and also to avoid communication gap. Therefore, talk to your children the right way, be their friend so that they do not hesitate to share their problems with you.
What are reasons for the communication gap between parents and children? What are the right ways to talk to kids? How to talk to kids when they are upset? Discuss here.