Raising Children Topics..
Sexual Abuse in Children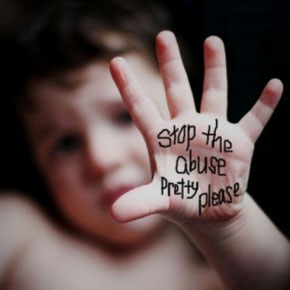 Child abuse can be defined as a physical violation of a child's body through any sort of sexual contact or a psychological violation of the child through verbal or nonverbal behavior.
Childhood is a building block on which the future is laid. Childhood experiences influence the ways in which we feel, think, act and respond throughout our lives. The events, circumstances and relationships of our early past have a profound and implacable impact on our adult lives. For some children childhood is not the golden period that is idolized and glorified, rather it is a period of intense pain and hurt and betrayal. This hurt, pain and betrayal is often caused by sexual abuse.

What is Sexual Abuse
Child sexual abuse can take place within the family by a parent, step-parent, sibling or any other relative, or outside the home by a friend, teacher, caretaker or favorite uncle! Child abuse can be defined as a physical violation of a child's body through any sort of sexual contact or a psychological violation of the child through verbal or nonverbal behavior. It is neglectful, disrespectful and hurtful because it violates a child's basic rights to be protected, nurtured and guided through childhood. It can range from covert episodes like using profane language to overt actions like rape. Lyod de Mause wrote, "The history of childhood is a nightmare from which we have only recently begun to awaken," and true enough the Indian society is still awakening to the fact that child sexual abuse exists and has horrifying after effects.
No child is psychologically prepared to cope with repeated sexual stimulation. Child sexual abuse leaves deep physical and psychological scars, which often have indelible and irrevocable ramifications. The consequences of abuse are traumatic and distort the development process. Research evidence suggests that the initial effect is that of fear often accompanied by depression, restlessness, bedwetting, refusal to go to school, feelings of guilt, phobias and nightmares.

Long-term Effects
The long-term effects of child sexual abuse are intense shame and low self-esteem. Most victims feel valued only as sexual objects and relate to the world through sexual activity. They feel worthless, insignificant and almost invisible. Guilt and shame go hand in hand. Many children continue to believe that they played some part in the interaction. They may blame themselves for the physical contact, and for not having defended themselves. Most children feel isolated from others, especially if a family member is involved, because they feel there is no one they can safely confide in. Sexual abuse involves coercion, confusion, manipulation and betrayal, thus making it emotionally devastating.
Most adult survivors go on to become loners, avoiding intimate relationships. They become fearful of trusting people as those they trusted have violated them. This self-imposed isolation keeps them from further hurt, but it also deprives them from getting their needs met. Most victims find it difficult to trust people and form meaningful relationships. Most victims report reactions of fear, hostility and an acute sense of betrayal. It is this sense of betrayal that often proves to be an obstacle while making new relationships.

Blurred role boundaries between adults
For many children the abusive experience demonstrates blurred role boundaries between adults and children, parents and children, and often men and women. Children may be frightened to trust, fear intimacy, show extremes in dependency needs, and may often vacillate from being totally dependent to totally independent. Typically they may sexualize their relationships in an attempt to gain affection. In adolescence this can lead to self-destructive patters of promiscuity with a succession of abusive relationships, often with far reaching and emotionally crippling consequences. Interpersonal difficulties are characteristic of adult life.

Depression and a feeling of "damaged goods"
Sexually abused children often become depressed because they have no way of dealing with their painful feelings. A child endures extreme losses, like the loss of safety, loss of self-esteem, and the loss of trust. These losses tend to reinforce the depression. Most adult survivors carry these childhood losses with them and struggle with repeated bouts of depression. The negative connotations that are communicated to the child about the experiences become incorporated in the child's self image. There may be a failure to even establish a sense of self and they feel like "damaged goods."
The child's sense of responsibility is often distorted. Sometimes an over developed sense of responsibility is exhibited wherein they feel responsible for everything and are frequently overwhelmed by guilt. Some other children totally internalize the victim's role and refuse to accept responsibility for anything.

Feeling of Guilt and Abandonment
The neglect that is part of growing up in a sexually abusive family causes the child to feel abandoned. They are in constant fear of their well being and it isn't just the abuse itself. It is the threats, the guilt, and the constant fear of discovery that is as harmful. All these feeling coupled with the painful realization that the people who are supposed to love them are the ones who are hurting and betraying them is the worst of all.
Instead of developing the feelings about oneself and others that a child would learn in a nurturing family (I am important), they creatively alter and develop skills to survive, which may include denial (I'll pretend it did not happen). Altered coping skills interrupt the learning stage and are ineffective in adulthood. For example, instead of learning to trust, they learn not to trust causing a host of interpersonal and personal problems.
Many an adult survivor may turn to a preoccupation with food, sex, or gambling, as a way of coping. They use it as a means of feeling whole and integrated. Such preoccupations also give them a sense of illusive escape from their traumatic world.

Importance of Family Support
If the abuse is short lived and terminated with effective action, the negative consequences are minimized. However, one of the most important factors is to believe in the child. Family support, love and understanding are crucial at this stage and may largely influence the recovery of the individual. Thus, abuse inflicts severe physical, psychological and spiritual damage, the echoes of which haunt the child long after he has grown up. It is important that the survivors move beyond the painful past and live an integrated, empowered, and fulfilling life that they are entitled to and capable of living. It is possible to change a hopeless life to a hope filled life.

Back to Previous Page | More on Raising Children Index
Recent comments (18 comments)
Name: Jayanti
Country: India
An Effort to make awareness on Child Abusing: As India is crying with Nirbhaya(Rape Victim) : we are making a try to aware all mothers and Parents... Inspired by Dr. Bhushan Shukla http://www.y outube.com/wat ch?v=6aH8Rwax0 9A&feature =youtu.be This workshop Includes Kids as well as Parents Orientation . 'ÄĘ Introduction 'ÄĘ Kids Workshop : near about 20 mins or so 'ÄĘ Parents Workshop : Near about 30 Min or so. 'ÄĘ We are making this effort to aware maximum parents and kids.. If u are looking forward to do this workshop at your premises or group or apartment then please take care of below things 'ÄĘ Kids grp should of age 4 to 9 yrs only 'ÄĘ Parents of all ages can come. 'ÄĘ Please bring kids with full breakfast 'ÄĘ We take timings : Saturday / Sunday Morning 10 to 12 or 11 to 1 PM. Only. 'ÄĘ Number of kids should not be less than 15 /20 'ÄĘ We are looking for one Projector / speaker / mike / print out of Shout No File as per number u r expecting for this workshop We are doing this at many places please see this video on youtube for better lookout of the workshop 1. Workshop on Child Abuse Awareness for Kids and Parents - 5 Actual Workshop -1 http://youtu.be/tNkS FIEAufM 2. Workshop on Child Abuse Awareness for Kids and Parents 'Äď 6 Actual Workshop -2 http://youtu.be/pdCjod-c2ws 3. Workshop on Child Abuse Awareness for Kids and Parents 'Äď 7 Workshop with http://youtu.be/5iteTJsd4vc Contact Jayanti Kathale : 9741399190 or mail me on Jayanti.devashree@gmail.com There are few more links available for full programs / blog for the same http://jayant ipk.blogspot.i n/2013/01/even t-on-child-abu se-awareness-workshop.html Regards Jayanti
Name: Sexual Abuse in Children
Country: India
Most of the peoples are not aware about sexual harassment and its very important to make them aware this will help us to decrease occurring sexual harassment in our country. By the help of Pria Cash http://www.priacash.org/forum/ website we can came to know a lots of things base on sexual harassment. It's my personal experience that this website helps girls a lot. Plus by using this website we will feel comfortable to explain to children, Kids and teenagers. We can share our views and queries with others in its forum……..
Name: sri
Country: India
one of the best article i have ever read
Name: PETER FILE
Country: England
i agree entirely well done!
Name: nikita
Country: Dubai
sexual abuse is in itself a heinious crime and child sex abuse - unforgivable - in fact the culprit should be hung. one of the reasons why these take place is that the child knows nobody is going to believe in him/her because the culprit involved is somebody known - it is known worldwide that more sexual abuses are committed by people the victim knows rather than strangers - secondly, sex is such a taboo subject in our society, even in the educated class - let alone the uneducated rustic class, that the child thinks that her parents/guardian would just scold them for talking on such a subject and the torture goes on with the child bearing it silently. the only way to avoid this is to always take the child into confidence and also edcuate her/him as per her age. i have daughter and she goes to the creche after school - i get to see her after a long day but once we are together, i keep a very close watch on her, any mood fluctuations or depressions, i am very quick to react - i definitely have a close talk with her - not only that - children should always be told that if they do not like the behaviour of any particular aunty/uncle, teacher etc, they must come and tell you - you will not scold him/her, rather you will definitely see that the person does not bother the child anymore - they have nothing to fear in voicing their complaints - telling the child that we will always beleive him/her can be very assuring for the child. above all, the parents/guardian should understand one thing and be thoroughly aware of the fact that
Name: Joan
Country: USA
fantastic article. this is a very thorough, accurate, and relevant article about the realities of sexual abuse. i disagree with those who said that it should have focused more on the course of action to be taken; developing a deeper understanding of the problem is the first step toward helping victims and very few people have a deep understanding of this problem. this is probably the best article on sexual abuse, of this type, that i have ever read. congratulations and thank you!
Name: Margo
Country: India
enlightening. most parents don't realise the dangers until it is too late. one day your daughter is a chubby schoolgirl and before you realise it she is an adolescent and then a young adult. somewhere along the line she has grown up and with all the different phases one does not know how or when to explain the rude facts of life. often, by the time parents get around to it, children are all grown up and are amused that dad and mum have again missed the bus and they found out everything a long time back. the sad fact is that their information is often got from the wrong source.
Name: Liz
Country: India
as someone else said, the article should tell more about the means to tackle the problem. everyone knows that sexual abuse is very much prevalent - so it is not a new fact. i myself am a victim of the same - so please let someone who knows about the subject write so that the parents can protect their children from the vultures of our society
Name: Manu Bansal
Country: India
this article went on explaining "what is sexual abuse". we know what is sexual abuse and what is the effect of it. your article should concentrated on the topic, which if i may remind you was "how safe is your child from sexual abuse". i was expecting something on how to prevent it and how it happens
Name: Mukesh Pandya
Country: India
very good article. let the children grow at their phase. if you are hungry of sex try full grown ladies. and you will find too. but atleast leave the children for the future. they are hope of future.
Name: a mom
Country: India
please read -bitter choclate.a book by pinki virani....it could make us more responsible and cautious mothers
Name: PALESA
Country: Southafrica
i have been searching the net for my research on culture and child sexual abuse and found your article thought provoking. i have been touched and impressed with the redsponse you are getting from affected people. keep up the good work. i hope it will be alright if i use your article in my literature review incase you need to contact me
Name: innocentbabe
Country: India
very good article. i'm still fighting back the tears. i have always known i needed help but now i won't be afraid to ask. thank you.
Name: Roselyn
Country: USA
my name is roselyn and iím 22yrs old. i recall my childhood, at the age 10. i tend to have grown kind of fast, physically. and people i would look at as my father figure, they had other intentions in their mind, i was molested by 3-4 people by my own family-friends. even my grandfather. i was very scared to talk about this, and kept on ignoring. i became overweight. but as i grew, i would get flash backs about my past. at age 19, i had my very first date (sai), as nobody would want to go out with me since i was fat. well, i was told he was 21, infact he was 27 which i found out 6 months later. on my first date he tried to go over the limit, i was careful, one week later, i got scared and confused, since heís the only guy who ever had asked me out, ( iíll do whatever he wants me to) so i let him, and then i got dumped the next day, ( this really hurt me a lot) 2-3 months later, we got back together again, he invited me over to his brothers house, i told sai about everything and asked him what was going on that night, all he told me was that he doesnít remember anything because he himself was drunk. ( he pretty much blamed me for this, and said that he forgave me though i believed him and stayed with him and as months passed by i was falling in love with him. but he was just using me which i already knew, but i didnít want to let him go. we lasted 8mnths. i was very obsessed with him. couldnít move on, lost a lot of weight- from 163ibs to 115ibs in less than 2 months. i started purging, wasnít eating. iím still bulimic, but not as bad as before. i separated myself from my family and everyone else, i would just stay in my room, crying myself to sleep. i was alone for a little over 2yrs. still not over him, but pretty much more focused about going to school and life. i got a job as a receptionist. worked there for 6months, got promoted to sales. i was always withdrawn from guys, who would want to go out with me, i just tell them no, even though i think they are nice or cute. i go up to a point of just flirting, but back off as soon as they ask me out. my boss, mike 38yrs old, fell in love with me, ( i really didnít like him at first) it took me a long time to get comfortable around him, we have a 17yrs age difference) he treated me like a princess, bought me expensive things, regardless of his feelings towards me, i couldnít show him any affection. i was never excited or happy about anything. i very unthankful person. i was always rude and mad. i donít know why? and because of my behavior i always wanted to break up with him, which eventually happened. after the breakup i realized that i really like him, he really touched my heart. he my mentor and inspiration. but it was too late, cuz he went and got an arrange marriage. my heart shattered into pieces when i heard this. i became more and more drifted away from everything. i even tried to hurt myself, didnít feel like living, like thereís no future for me. i donít have anymore feelings towards anyone, especially when it comes to guys. i kept going got myself on track. 7 months later. i started college, and i saw this one guy, albert , handsome and smart. really good looking. i would look at him from distance but never had the guts to say anything. i would be excited and happy to see him everyday i would go to school, even though i didnít even knew his name! talk about him all the time at work. ( i didnít know that this guy was also interested in me) which i noticed couple weeks later, as he was the only thing on my mind. its like someone at the back of my head was pressuring me to go talk to him. then one day, i was walking on the hallway, hoping to get a glance of him, which i did! we talked and went out. it was like i met my soul mate) everything i wanted in a guy, he had it all. it was all great but only for 4 days. it was my fault, because i lied to him about mike. said that i never slept with him. which albert eventually found out. i felt horrible. i wanted to breakup again, so that at least it wont ruin our friendship. its like a curse on me, am scared to be too happy in a relationship, cuz it always ends up in a disaster. but albert was understanding and still gave me a chance. its been a little over a month, weíve been together now. i like spending time with him. but things are very weird right now., like i feel like i donít know what to talk to him about. but he told me that the only thing he not okay with me is that i donít show affection, that am cold, everything seem fake that i say or do to him. and its like i donít know why one minute i have great time with him, and next am feel all down again. i donít feel happy anymore, i fake it. and am always too moody and get mad, always negative, thinking negative about albert and i. its like am prepared to break-up, or if he does than i wont feel sad or be emotional about it, i think i am strong enough to get over this, just like my previous relationships. but my odd behavior is really coming in the way of my personal life. i want to change myself and be natural and be a fun person to be around. i really want to work it out, but just because of my personality its damaging our relationship. i sometime get so nervous that i donít make any sense of what am saying or talking to him about. ( i feel stupid, dumb, and airhead). i donít want to stress so much about all these, but its really affecting my work and school. please advice me how i can start changing myself behavior around men. lately, i get i irritated quickly, as my lifeís already so busy ďwell i keep it busyĒ my day starts at 5am-11:30pm m-f. i hope this is not the reason why my personal life is getting effected, because im already so tired. i donít open up to anyone and people cant read my mind, even i myself donít know my own self please help me l sincerely, roselyn
Name: DESERIE
Country: India
watch monsoon wedding to get a taste of things
Name: vani kantli
Country: India
i want to share one case with the parents who have children not only girls or adoloscents but also a one year old child. every child is opportunity for the abuser. even 9 month old girl being abused sexually by her own father, nearest relatives is reported in our org. if u r sending ur child to preschool also be aware about the abuser can be a cab driver
Name: Askios
Country: india
good article with info on long term effects of child abuse .. felt your headline could have been titled accordingly. i'd like to put a link to this article on my website for adult survivors of child abuse, askios. (just google for "askios" to go there).
Name: troubled
Country: India
my older brother is "evil incarnate" i faced this fact only last yr now i am 46yrs old. he always had evil eyes on me. later my little daughter bacame a victim. since my mother turned a blind eye to his evil and forced me to respect him any way, i could not protect my daughter. though i tried my best. even now, that she has made me realize his evil i am unable to confront him or my parents. i ahve told my sister but she is least symapathetic and protects him under pretext of "family".she has two sons so she is not afraid. my daughter wants me to do something concrete. like tell him that i am on to him. or tell the family/ have him jailed. i explained that wont help us because our whole society will come to know and u will be the sufferer.so now she fights with me over very little things as she feels i ahve betrayed her and i am an irresonsible mother/ useless. though i am very protective and devoted and loving. but with all my education i could not protect her. so what should i do now? how can i make her feel satisfied that justice has been done. i am a middle child and not at all assertive. my father trusts and values me a lot. i have looked after the family as though i was responsible for everyones welfare from a very early age. i have loved my parents and siblings very well. yet i am not recieving any support when my daughter needs help. how ironic. if i tell my husband he will do something concrete. should i? so far i have taken recourse to spiriyual methods(meditation). but i need a combination of spiritual and practical methods to put this evil ghost to rest once and for all. if u know so much about the act of child abuse and write so well on its consequences u must have done some reading on solutions as well? if u have then please take the time to write some helpful answers.anyhting said against him will make my mother crazy. already she is bed ridden with diabetes angina arthritis adhesions and mental sadness as well. thanks in advance sad mother



Helping child to cope with speech delays Video
Discussion Forum - Recent Posts
Do you know how to deal with a sexually abused child? How can you keep your child safe from these happenings? Have you spoken to your child about this?

view more >>
DISCUSSION FORUMS ON
Raising Children
Good Maid agency
I am looking for a good maid agency in Gurgaon. Please Suggest ... - shilpi mathur read >>

Raising Children
I agree with you. Teachers play a very big role in raising children. In fac ... - Rishabh R read >>

After school activities for Kids
" Hi Sowmya!
I completely agree with you! I enjoy many after school act ... - Gaurang Mishra read >>

Mother is the first teacher!
It is true that every parent wants their kids to be the best. Recently an e ... - Gaurang Mishra read >>