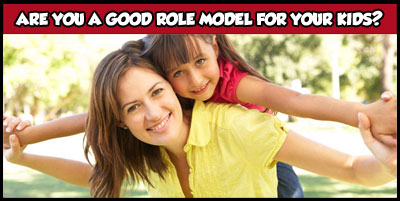 If you want to instil good habits, manners and discipline in your children you must be a good role model for them. Kids always follow the actions of parents. Therefore, by being a role model you can raise your kids as balanced, successful and happy individuals.
The best way to raise your children happily, successfully, and confidently is to inculcate these qualities in yourself and be a good role model for them so that they can look up to you and learn things from you and follow you. Your child is born with no social knowledge or social skills, and so he or she will be very eager to imitate someone, and the best person will be you. No matter what you say, your kid will be more prone to follow what you do – so practice what you preach. Being a
positive role model
is the best you can do for your child.

1. Understand Yourself and Be Confident
The major step to be a good role model is to first understand yourself, know yourself, know your good and bad, control the bad and imply the good as much as you can. You may have come by a long road by experiencing many ups and downs, but now as you are experienced, you shall also be confident. The lessons you have learned, the character you possess, the strength you have achieved – summarize all of them to help yourself be a good role model for your child. You can always get better, but do not lose confidence and do not be bad as you know now, who is growing up looking at you.

2. Engage with Your Kid
Communication is the best key. Make sure every day you spend enough time with your kid discussing about how was his or her day, what he or she feels about yourself and himself or herself or others, and how other things are going. Find out if your kid is upset and solve his or her problems. Ask if your kid has anything else to discuss. Establish a safe space for this private communication. The more you engage with your kid, the more you can teach him or her social skills, the more you can advice and share experiences from your past learning or mistakes, which will be a part of your daily life.

3. Make Positive Choices
The choices you make affect both you and your kid as he or she looks up to you. Now, you have to list all the good habits and follow and cut down the bad habits as much as possible. If you practice doing yoga, then only you can ask your kid to do so. If you yourself do not eat broccoli, your kid also will not. If your kid keeps seeing you drinking or smoking, he or she may take it up in future and you cannot stop him or her as you also have not stopped yourself. If you do not show respect to others and be forgiving, even your kid will not learn to do the same. If you do not show
love and empathy
, your kid may end up being rude and
bully
others.
4. Apologise and Admit Mistakes
No one is perfect; so if you make a mistake, do not hide it, let your kid know that you have taken a bad choice and you are sorry for that. Your kid will learn that he or she can make mistakes, but that can be undone if he or she realizes it soon, and that he or she will be responsible for such mistakes and actions. When you apologize, admit your mistakes, and repair the damage, your child learns your
responsibility
and humility – very important key features of a good role model.

5. Be There to Guide Your Child
Effective
parenting
is great mentoring. Teach your child what is wrong and what is right. Involve your child in household activities. Teach him or her to be responsible and hard-working. Praise and acknowledge your child for the good work he or she does as it is very motivating. Set punishments for his or her mistakes, do not let it go.
Above all if you want your kids to look up to you, you must be always there whenever they need you. Teach them the importance of being honest, hardworking and responsible through your actions. This is the best way to be a good role model and motivate your child towards the best, so good luck!
Why is it important for parents to be a good role model for kids? What should parents do to be a good role model for kids? Why do kids follow actions of parents more than their advice? Discuss here.