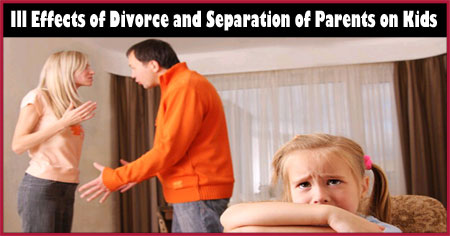 Children may face emotional problems as well as develop behavioural issues due to the divorce or separation of parents. Let us take a look at how divorce and separation of parents can adversely affect children.
Divorce and separation are harsh realities of today's hectic and stressful world and often the worst sufferers are children who come from such broken homes. The level of distress that kids feel depends on their level of mental maturity and the difficulty level of the
divorce
. Depending upon the situation kids may experience one or more of the below mentioned effects during and after divorce and
separation of their parents
.

Emotional Problems
Children who belong from broken homes often suffer from a multitude of
emotional problems
. Kids manifest their emotional distress by showing symptoms like bedwetting, excessive clinginess and irrational disobedience.
Kids who are constantly exposed to their
parents fighting
develop a deep rooted feeling of anxiety and insecurity. Sometimes children get recurring nightmares and bad dreams which reflect their inner sense of disquiet. Often children who come from broken homes show erratic behaviour patterns and ambivalent behaviour. Psychiatric counselling is often recommended to kids who have faced parental problems and have exhibited resultant emotional issues.
Withdrawal from Reality
Many children are extremely sensitive and may be unwilling to comprehend or accept the fact that their parents are separating. Children often resort to building a fantasy world in which their parents are still happily together and as a result experience withdrawal from reality.
It is also seen that children often harbour unrealistic expectations of their parents getting back together even when the divorce has been formalised and completely accepted by both parties. Such kids often cause problems in their parent's personal lives as they still harbour the expectation that their parents will continue to coexist together as a perfect family.
Insecurity and Depression
Divorce or separation often brings with it a change in the residence, environment and life style of the kid. Such changes disturb children and make them fearful and insecure. Insecurity often stems from the fact that the utopian concept of the perfect home with two loving parents is shattered. Children often become confused about their future and this confusion leads to fear psychosis and depression.
Unfavourable social comparisons and taunts and jibes from friends further alienate children from broken home pushing them nearer to a depressed state. The first signs of insecurity in such children should be recognised and corrective measures of counselling should be taken.
Behavioural Issues
Often kids of divorced and separated parents are seen facing disciplinary problems in school. While some kids tend to withdraw into a shell and become unresponsive; still others become hyper active and unresponsive.
Disobedience and acts of rebellion against persons of authority are a side effect of pent up resentment and anger in the minds of kids who are facing problems at home. Sometimes kids who do not react at all at home in front of parents show their angst and distress via
behavioural problems
at school and with friends.
Sense of Divided Loyalty
Often kids who belong from homes with warring parents suffer from a sense of divided loyalty. Often parents make their kids a point of contention in their mutual differences and force them to take sides. Kids are asked to choose between their mother and father as each try to belittle the other spouse in front of their children.
Children who are forced to take sides often suffer from a guilty conscience and start blaming themselves for being forced to take sides. Many children turn against one of their parents and the relationship between the parent and child gets permanently damaged.
There are multiple negative effects of divorce and separation on kids. With proper counselling and guidance from seniors parents should try to save their marriage for the sake of children so that most of the unpleasant effects of divorce and separation on kids can be averted.

How does divorce and separation of parents affect children? What is it important to have a healthy marriage to raise happy children? How does relationship between parents affect growth and development of children? Discuss here.