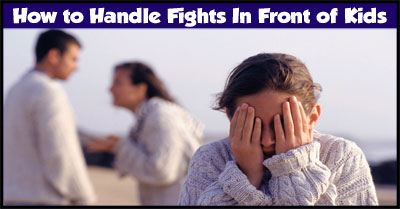 Although fighting in front of kids is not good it cannot be completely prevented. Therefore, it is essential for parents to handle arguments in a healthy way whenever they arise. Find tips for handling arguments in front of kids in a right manner.
Fights are inevitable, and your kids can see you fighting with your partner at some point, which can scar your little ones for the rest of their lives. Some fights can teach your kids to be responsible and considerate but some fights can also be invaluable tools which can have a negative impact on their perception about relationships and commitment.
Here is how you can handle
arguments in front of kids
, to ensure that your child learns from disagreements and develops a healthy perception about resolving fights:

Always Fight Fair
Fighting fair includes no name calling, threatening or screaming just to get your point across. You should focus on the content and the fight instead of fighting unfair which will set a bad example of what marriage is all about, affecting their future relationships. Children should understand that fights are inevitable part of every relationship and arguing does not mean that their parents do not love each other anymore.

Avoid Adult Related Topics
Some conversations are not fine to argue in front of children. Certain topics should always be off limits such as your
sex life
and discussing personal issues such drinking or smoking addiction. Also, you should not talk badly about each other's family members and relatives as kids might start reacting strongly to that person.

Avoided Arguments about Kids In Front of Them
You might disagree over some rules set for your children but it is important to work those behind closed doors. Arguing about kids in front of them develops a negative image of parents in the minds of kids and that can make the parent less effective authority figure. Also, if one parent takes the side of child and one does not, children can learn how to divide and conquer parents, which can cause them to get an inflated idea of their role, exposing them to use unfair means early in their life.
Solving the Issue Before It Escalates
Disagreements in a relationship are inevitable, but there always ways to
avoid fighting
in the first place. Any conflict that crops up between you and your partner can be resolved peacefully and with tact, especially in front of their children. Aim to positively resolve issues in front of your children in order to protect their emotional and mental stability as well.
Make Sure They Know That the Conflict Has Been Resolved
Sometimes, it is beneficial for children to hear that you and your partner have different opinions. These arguments within certain limits are actually opportunities that you can use to demonstrate your child on how to negotiate and resolve issues by observing the other person. This way, they also learn to use their
problem solving skills
and consider each other's wants and needs before there is to reach a solution.
Follow Up After an Argument
If you and your partner had a pretty intense argument in front of your child, it is important to check in with them later to tell them that everything is okay between you and your spouse. You can let them know this separately, so it does not seem too formal. It is crucial to let your kid know that everything is okay as your child's emotional angst over conflict between parents can remain bottled up and cause him emotional issues such as
depression
later in future.
Although fighting in front of kids is not good but handling conflicts in a positive manner can teach them to deal with conflicts in future easily. It is very important to handle arguments in front of kids in a healthy manner to prevent its negative impact on their growth and development. So always make sure to avoid arguments in front of kids as much as you can and even if they take place, play by the rules and handle them tastefully.

How to handle fights in front of kids? Is it ok to fight in front of kids sometimes? How to avoid arguments in front of kids? Discuss here.