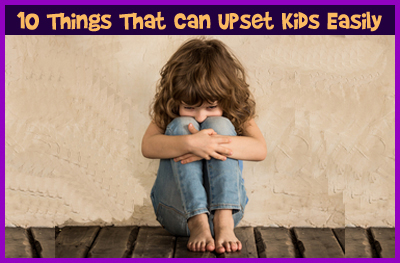 Certain actions of parents can upset kids. If such behaviours are avoided by parents, they can make sure that they do not upset their kids. Here is a list of 10 things that that upset children easily.


Children do get angry and throw temper tantrums. Sometimes their emotional outbursts are so difficult to handle. Parents often find themselves helpless when their kids behave that way and it could be very embarrassing at times. You just cannot ignore such
behaviour of your children
and any wrong action from your side can only aggravate things further. Even a very small issue like a fight with friends or not getting a particular toy, can upset kids.
1. Failing to Acknowledge Their Achievements
You need to encourage your children and reward them well even for their smallest of achievements. Children need lot of motivation in the form of encouragement from time to time. If their small achievements or hard work go unnoticed, they do not get motivated enough to perform that task again.
2. Using Lot of Negative Words
Children might get easily demoralised if lot of negativity surrounds them. Avoid using words like "no", "don't", "never", etc. A negative environment can have a very lasting impression in the mind of children which is not good for them. It pains them to hear such words from their parents or teachers, who are supposed to love them so much.

3. When Threatened
Children are too young to handle threats. Teachers or even parents sometimes threat children to make them do a particular task. Threat is a sort of emotional abuse. Nobody likes to be threatened. When you threaten, your child will try to defend by getting upset. The situation may get more aggravated.

4. Trying to Impose Your Ideas
Your forced ideas on children could upset them. Children have a mind of their own. In fact children are more creative than adults. Give them the liberty of exploring their creative mind fully. Do not control them and try to influence or impose your ideas on them. Such kind of action on your part will upset your child.

5. When Controlled
Teachers or parents can guide children but should not try to control them. It is a forced behaviour and a child will not respond positively to any kind of action that might be forced on them. When you control your child, be prepared for a negative reaction.

6. When Ignored
Pay attention to your child. When you do not talk to your child, they feel unwanted and uncared. Even in schools, teachers need to give equal attention to all children. Any child if not paid attention may feel neglected. Some parents walk away when their kids are throwing
temper tantrums
. That is the time they need you. By ignoring, you will be upsetting the child more.
7. When Punished
Punishment is not going to help. Your child will not learn his or her mistakes through
punishment
. Children feel bad and humiliated instead.
8. When Criticised
Communicate with your child without being critical. Tell him or her when he or she is wrong. Do not criticise the child. Criticism not only makes children feel worthless but also can embarrass and upset them very badly.

9. When Compared with Others
Every child is unique and different. Do not
compare your child
with other children. They get upset easily.

10. Family Problems
Lot of problems in the family like tension or
divorce between parents
, death in the family, poor financial condition, psychological problems etc. can upset kids and lead to withdrawal symptoms.
Very careful handling of the situation is required. It is not advisable to do reasoning with an already upset child. Children do not want long explanations. Children cannot control their emotions Children need your support to handle their emotions. They are quite sensitive and any wrong gesture or verbal attack on your part as a parent can trigger anger in your child.

Why do kids get upset? How to avoid upsetting kids? What can parents do if kids are upset with them? Discuss here.