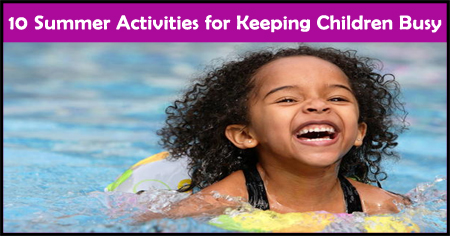 Here are ten ways to keep your children busy this summer. Find a list of interesting summer activities right here.



Summer holidays are approaching and children need some interesting activities to keep themselves busy. Parents do not have a lot of free time on their hands however children are always bored. Adults do not need to keep themselves busy because they already have a lot of work however children need to be given some activity. Here are some interesting
summer activities
for children.

1. Skating

Skating is a fun and interesting activity which can be enjoyed by people of all ages. Skating is not suitable for toddlers or children with disability because one needs a sense of balance and control over body actions. Nowadays, skates can be purchased online as well. Children need to skate in open surroundings and empty areas or gymkhanas. Avoid skating on crowded roads with traffic. Make sure that your children wear helmet, elbow pads and knee pads while skating. Skating is fun and interesting and kids can enjoy this
activity
alone or with a group.
2. Indoor Board Games

Children can invite their friends over and enjoy some board games. Nowadays there are many games which one can enjoy at home if it is very hot outside. Children can play card games like Uno, etc. Mothers can prepare some snacks and invite children's friends over. Earlier children used to play games like Snakes-n-Ladder, Ludo, etc. It is not always possible to play outside during summers hence children can
play indoors
also. Games such as Treasure Hunt, Hot- n-Cold etc; can be played indoors.
3. Swimming

Swimming is a wonderful pastime especially in summer. Children can enjoy it as a hobby and get some exercise as well. Swimming tones up the body muscles especially that of the hands, legs and back. It is a relaxing activity as well. In life it is always good to know swimming because one is never sure what kind of emergency may arise. Knowledge of swimming can save a person's life anytime. Do not leave your children alone near swimming pool and make sure that they doing this activity under a trainer's supervision.

4. Karate

Knowledge of karate is good for girls as well as boys. Karate is the art of defending oneself. It is a great activity for kids during
vacations
. Knowledge of karate can help one to become prepared to handle various situations in life. In case of physical assault, a person with knowledge of karate can fight back. Karate improves physical strength and reflex actions as well. Children who learn karate become strong and confident.
5. Oil Painting and Drawing

Painting and drawing is a nice activity for creative kids. Children can use their imagination to draw and design. Children can sketch and create beautiful sceneries, etc. Oil painting is generally an activity which girls enjoy more. However, it requires patience. If your child is the type who can sit in one place for two or three hours continuously then you should definitely consider such type of activity. Your child should also be comfortable ultimately. Once the oil painting or sketching is over, you can frame it and put it on the wall of your room.
6. Music and Dance

Indian culture promotes dance and music of various types. Indians generally love music and dance. It provides a good chance for children to display their talent. You can enrol your children in dance and music classes near your house. If your children are fond of Western type of dance and music, then you can enrol them in those types of classes also. Learning music and dance can provide your children an opportunity to participate in cultural activities at school.
7. Computers

It is good to enrol your children in computer classes. Learning computers has tremendous advantage especially in today's world. You can allow your kids to learn various programs such as Microsoft Word, Excel, Paint, etc. It also depends on your child's age. Learning computers has great advantages. Your child will have an edge over other kids. It will help in his or her future also.
8. Musical Instruments

Learning a musical instrument is very relaxing. Children can learn any musical instrument such as guitar, violin, etc. It is interesting as well. Some musical instruments are difficult and some are easier to learn, so it again depends on the age of your child. One can learn to play various songs on the instrument.
9. Tennis or Badminton

Children can learn to play tennis and badminton. While you can learn on your own, there are classes and gymkhanas as well where children can play for a fee. You will need to buy a racquet for the kids and they can enjoy playing these games in the building or society premises. Adults can also join their kids in playing these games if the children do not have anybody.
10. Calligraphy

Do you want your child to learn beautiful ways of writing? Would you like your child to have a beautiful handwriting? Calligraphy teaches your children to write in a creative and stylish way. If your child has a knack for artistic things, you can definitely ask him or her to give calligraphy a try. There are many teachers who teach calligraphy to kids.
You can also find about your child's likes and interests. If your child is interested in doing a particular activity allow him or her to take up such activity. If he or she would like to join any other group activity with his or her friends, do not discourage. Find the details of such activities by visiting the classes yourself and let your child join such group activity with his or her friend. It is a great fun for children to join group activities with their friends.
How to keep children busy during summer vacations? Which group activities can children carry out during summer vacations? What kind of games can children play during free time? Discuss here.