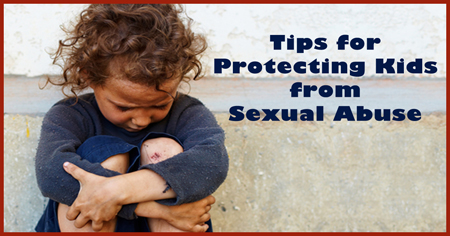 With the increasing number of cases of sexual abuse in children, parental involvement is needed to a greater extent. It is becoming more and more important for parents to know what is happening with and around children on daily basis. Let us take a look at some ways to protect children from sexual abuse.

Sexual abuse
has severely traumatic after effects on children. The physical, emotional and psychological effects of childhood abuse can continue long into adulthood and many kids never really recover from this kind of trauma. Every parent has a moral and social responsibility to protect their children from sexual abuse. This guide will help make things easier for you.
Develop Healthy Communication Pattern with Kids

Young children cannot be expected to know when and how to recognize paedophiles and sex offenders. Therefore, these miscreants have a high chance of luring, trapping and inappropriately
touching kids
.
Most of the time kids are confused about whether or not it would be "all right" to share the details of such incidents with their parents. As a parent you need to establish that your kids feel free enough to talk to you about anything. It is evident that the more you are in loop with what is happening in your kids lives the better equipped you are to intervene and protect them.
Learn About Child Sex Abuse

You need to understand about child sexual abuse first before you can protect your kids from this evil. Learn about the prevalence of this malaise in your city and the latest incidents regarding it.
Learn about the traits of paedophiles and also understand the fact that they come disguised as friends, relatives or well wishers often. The more aware you are of the facts of child sex abuse the better preparation you have in saving your kids from this danger.
Teach Body Awareness

If your kid is over the age 5, then it is time to have
body awareness
discussion sessions with him or her. Teach your child about different body parts and their function. Also teach children which parts are private and should not be touched by anybody else. For example, you can teach a 5 year old that touching on the genital area, buttocks or chest etc is inappropriate.
Explain to your kids that they should immediately protest if some adult (whether known or unknown) is trying to touch their inappropriate areas. If your kids come and tell you about any such incident then step in at the earliest to intervene.
Look For Warning Signs

As already discussed, it is an unfortunate fact that most child sex offenders learn to disguise themselves pretty well. Records say that the typical child
sex
offender at least manages to abuse 80 to 100 kids before getting caught. This has a lot to do with the fact that children are vulnerable beings who often cannot protect themselves against the abuse or fight back.
However, disguised paedophiles may be they always leave some clues about their distorted psyche. One of the clues is an excessive love for kids. If you see an adult who has too many toys and who is always trying to attract the attention of children then that is a clue. Another clue of sexual deviation is an adult who tries to act in an extra nice way with kids by offering those gifts and favours. Always analyse the intentions of such adults before trusting them with your kids.
Never Remain Quiet

Child sexual abuse is a social evil of the basest nature and it is your duty to speak out and protect children against it. Never remain silent on hearing or experiencing incidents of abuse. Even if the incident does not involve your kid it is your duty to actively raise awareness and protest against such cases. You can form a support group of fellow parents who are aware and are working against protecting their kids.
With awareness, alertness and the will power to bring in chance it is possible to fight against the social malaise of child sexual abuse.
How to teach children the difference between good touch and bad touch? What are the causes of sexual abuse in children? How to prevent sexual abuse in children? Discuss here.