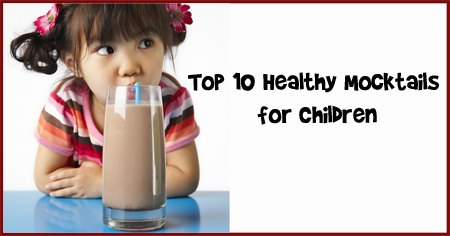 Do you want to learn making interesting mocktails for children just in few minutes? Here is a list of top 10 healthy mocktails for your children. Find out how to make them right away.

If you are throwing a kids party or are simply catering to the demanding taste buds of your little ones these mocktails will help you score some brownie points.
1. Holiday Shirley Temple
The Shirley Temple mocktail looks bright and colourful and is amazingly delicious. All you have to do is to pour lime-flavoured non-caffeinated soft drink in a glass and add
orange
juice to it. Finally add Grenadine letting it settle to the very bottom of the glass. A singe plump Maraschino cherry will complete the look.
2. Strawberry Lemonade with Sparkle
Take the leaves of 3 medium sized
strawberries
out and cut them into little pieces. Take a large glass and pour lemonade into it and combine it with ginger ale and crushed ice before sprinkling the whole mixture with chopped strawberry pieces. Use a single strawberry for decorating the rim of the glass before you serve this yummy mocktail.
3. Apple Sangria
Your kids are going to love the visually stunning
apple
sangria and you can be sure of it becoming a hot favourite in your home. All that you are going to need are finely chopped apple pieces, raspberries, blueberries and club soda. Add these fruits to a large pitcher and pour the ginger ale and club soda on top of it. Serve this mocktail in pretty coloured glasses.
4. Orange Pineapple Martini
Add crushed ice to a tall glass and pour pineapple
juice
inside before topping it up with orange juice. A splash of honey or sweet syrup to this mixture will further enhance the taste. The final touch is to add finely chopped Cilantro to the mixture before stirring and shaking it
5. Cranny Coolers
Cranny coolers are delicious, refreshing and can really bring down the Celsius on a hot summer day. All you need are a few cups of cranberry juice, a cup of orange juice, and slices of orange and chilled ginger ale. Mix the juices together and add a dash of lemon and cherry before pouring in the ginger ale. When you serve the drink make sure that you garnish with cherries and orange slices.
6. Cucumber Punch
Add water and ice cubes to a punch bowl and mix in lemon powder and grape concentrate before stirring the whole mixture thoroughly. Peeled and sliced cucumber and lemon pieces should be the last to go in. This is not only a refreshing mocktail but it is also very healthy.
7. Chocó Mint Mocktail
The Chocó mint mocktail combines delicious ice cream, coconut cream with ice and chocolate syrup to make up the most delicious concoction ever. Pick up a tall glass and rim its edges with chocolate syrup. Now add ice-cream, chopped mint leaves and cream of coconut to the glass and begin stirring it till a smooth consistency is achieved.
8. Lime Cola
All that goes into making this highly versatile mocktail is frozen lemon concentrate, carbonated liquid and lime wedges. This is a very simple mocktail that can be whipped up in a jiffy. Fill up a glass with crushed ice, limeade, and cola and top it with lemon slices.
9. Cran Apple Cider
A glass should be rimmed with cinnamon sugar before you pour equal amount of cranberry juice and apple cider in it. This refreshingly simple yet delicious mocktail is best garnished with a candy swizzle stick.
10. Pina Colada
Add pineapple juice to tender
coconut water
and garnish with some coconut cream. Rim the top of the glass with cherries and pineapple slices. The Pina Colada is an immensely popular kid friendly drink.
With these amazing mocktail recipes in hand you can be sure of winning over the hearts and the taste buds of your kids.
What kinds of mocktails are liked by children? How to make mocktails for children instantly? Why kind of drinks should not be offered to children? Discuss here.