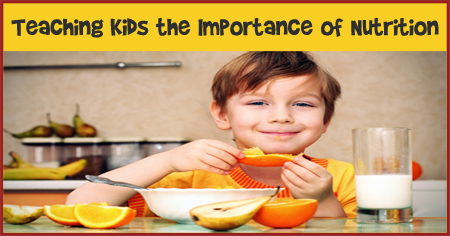 Proper growth and development of children is possible only with healthful nutritious choices. Start teaching the importance of nutrition to kids and maintain a good health with the following tips.

Food is the most important part that plays vital role in growth and development of children and adults as well. It is believed that the kind of food habit that is developed during early years of life remains throughout the life.
When you are really interested in ensuring the health of your child, it is important you create an environment where kids can make healthful nutritious choices. In fact if you foster a creative and supportive environment, your whole family would be able to build up a positive relationship with nourishing food.

Importance of Encouraging Kids to Eat Healthy
In the recent past, food choices have become according to convenience and size of the portion. Well, the high fat, high sugar foods that are offered along with beverages have taken the driving seat of people's eating habit. Understanding the health hazards that these food items are having on children and adults, people are becoming more and more aware about health and healthy food.
So, if you want that your kids stay away from these food items and have a healthy eating habit, you will have to start today. No matter what age is your child right now, introducing him to eating nutritious food items shall not wait now? Here are some tips that can help you get a good and instant start.
Ways to Teach the Importance of Nutrition to Children

Have a quick look at the few ways to teach the importance of
nutrition
to your children.
Introduce Children to Essential Nutrients

Teach your child about the significance of healthy food. Introduce your child to the world of nutrition by making him or her understand which of the natural food product possesses which nutrition and why is it important for growing children. For example; tell him or her that papaya contains Vitamin E and it can help to have healthy eyes and skin if included in the diet.
Stock Healthy Food Items at Home
Keep healthy food at home and give your child practical demonstration so that he or she understands the apt significance of specific food. Children try to have instant food items to satisfy their cravings. So, keep fruits ready on the dining table or a bowl of fresh fruits cut in small pieces so that your preschooler finds it easy to indulge on.
Be a Role Model
Children are copy cats. So, you need to start having fruits in place of desserts so that your child follows suit. Try to make it a family affair and let everyone in the family have a bowl of fruit or fruit salad after dinner or
breakfast
whatever suits your family routine. Let your child understand that eating nutritious food and exercising helps maintain a good health.
Connect Your Children with Nature

Children learn faster and remember more when they are given practical demonstration. Whenever possible take your child to a local farm and let him or her see from where our food comes and how is it grown and developed. Also tell the importance of having foods in their natural form in case of the fruits and
vegetables
that can be eaten raw. This will help him or her get connected to the natural atmosphere.
Involve Children in Cooking
Engage your child when you are cooking food. There are some parts of preparation that your child can also handle or at least he or she will see and enjoy your cooking of food. You can let him or her arrange and decorate the salad plate or bowl or let him or her decide which vegetable should be cooked for dinner. This will also make him or her feel special.
Get Creative with Food

You can also make some edible art because children love to create. There are plenty of ideas that you can develop and adding your imagination decorate your child's plate. Use fresh
fruits
and vegetables that can be eaten raw for better eye appealing dishes.
When you start introducing your child to the world of nutrition, do not expect any kind of change overnight. It is an ongoing process and so with patience you can make your kid food smart and keep him healthy for a lifetime.

How to encourage healthy eating habits in kids? When should parents teach their kids about healthy eating? How to involve kids in the food making process? Discuss here.