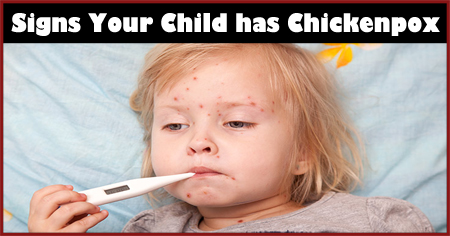 Chickenpox is also known as varicella. It usually affects children but sometimes it can affect adults as well. Let us take a look at the common signs of chickenpox in children.

Chickenpox used to be a common disease in past, especially for the children below the age of 12. Although it is quite rarer now, you should be careful and aware of the signs so that your child does not suffer.
Chickenpox is a
contagious disease
and normally comes with flu like symptoms along with distinctive rashes. It takes 10 to 21 days to show the symptoms once your child has been attacked by the virus.
How Could Your Child get Infected?

Just by coming in contact with an infected person, your child can be attacked by the virus causing
chickenpox
. Just by being in the same room can also infect your child. It spreads through
Cough and sneezing
Saliva
Coming in contact with blisters
Being in the same room with infected person
Symptoms of Chickenpox

The most common sign of your child being infected by chickenpox is presence of rashes. In fact, children get affected many days before the rashes are actually seen. This is the reason why most children get infected easily as the symptoms are not clear in the beginning in the diseased person. Common symptoms experienced are:
Rashes
Fever
Headache
Loss of appetite
Itching
Restlessness
Nausea
Aches and pains
Often the rashes are seen only after 1 to 2 days of
fever
, but in some cases, they are seen before the fever also. The rashes, which get converted into tiny bumps filled with fluid appear on the body gradually and the number also increases especially if the child cannot resist the itching. As the fluid from the bumps spread, the rashes start appearing. New bumps keep appearing throughout the period of infection.

How is Chickenpox Diagnosed?

If you see unexplained or unusual rashes on your child's body, especially if there is other flu like symptoms along with it, you should see the doctor. Also, if you find out that your child has been in contact with someone few days before and the person is suffering from chickenpox, it is good to get her examined by a doctor. Many cases have been diagnosed when the doctor physically examines the blisters. In some cases, lab test is also done.
Possible Complications of Chickenpox

Contact the doctor if the rashes are:
Seen near the eyes
Tender and warm because this indicates some kind of bacterial infection
Accompanied with dizziness or uneasiness in breathing
The most easily affected ones are:
Infants
Elderly people
Pregnant women
Patients with weak immune system
Women, if exposed to chickenpox during pregnancy, can give birth to children with defects like:
Poor growth
Eye problems
Small head size
Intellectual disabilities

How is Chickenpox Treated?

Chickenpox is caused by a virus and so antibiotics do not affect them. Normally, it goes on its own, but you can take some steps to help your child get relief from the symptoms to a great extent. It is advisable to see the doctor or give your child paracetamol to get some relief from fever and body pain.
Give your child plenty of fluids to prevent dehydration.
Use calamine lotion as prescribed by your doctor to sooth the itching of rashes.
Keep your child's nails short so that she does not scratch the rashes by herself.
Dress your child in comfortable, cotton clothing to keep her skin cool and reduce itching.
On rare occasions, serious complications like bacterial skin infection or swelling in the brain may occur due to chickenpox. If your child has a weak immune system or you find that she is sicker than expected, it is advisable to contact your doctor.
By taking the above-mentioned precautions, you can help your child deal with the discomfort. Never give your child aspirin or ibuprofen when your child is suffering from chickenpox because it may lead to lever failure and can prove fatal for the child.
What are the causes of chickenpox in children? How to prevent chickenpox in children? Can children get affected with chickenpox even if they are vaccinated? Discuss here.