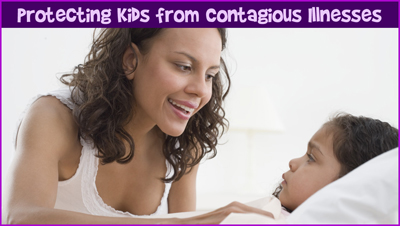 Teaching hygienic habits to kids is a must to prevent contagious illnesses in them. Here are some common habits which you can cultivate in your kids for protecting them from contagious illnesses.
Children are prone to contagious illnesses, and it is impossible to protect them from all the illnesses. Infectious diseases can be caused by viruses, bacteria, and many other microorganisms that enter the body through various ways, and then these diseases can be easily passed from one person to another. But you can teach healthy habits to your kids and
boost their immunity
by following few ways, which can help reduce the risk of infections in your kids.
Teach Correct Way to Wash Hands
The single most effective way to protect your kids from contagious diseases is to teach them the correct way to wash hands. Ask them to first wet their hands, apply bar soap or liquid hand wash, scrub all the surfaces for 15-20 seconds, rinse well, and dry their hands. If there are no soaps, then use wet hand wipes or gel sanitizers. Make sure your kids wash their hands not only before and after eating, but also after using the bathroom, after coughing or sneezing, after handling animals and more frequently if someone is sick at home.
Teach Sneezing and Coughing Etiquettes
It is very important to cover your mouth when you sneeze or cough as microorganisms spread through these very fast. Teach your children to use tissues and cover their mouth whenever they sneeze or cough or even blow their nose. Show them to hold the tissues effectively so that the drainage does not reach their hands. Also ask them to throw the tissues in the trash can and immediately wash their hands. If tissues are not available, then use your arms or elbows to cover the mouth.
Make Children Aware that Sharing Is Not Always Caring
You have to convey another important message to your kids – do not share or touch. They should not share items like pillows, towels, toiletries, spoons, forks, straws, cups, combs, toothbrushes, hats, or other personal items with other children. Also, your kids have to be careful not to touch other children's stool, blood, urine, or other drainage. Also, you should ask your kids to avoid touching eyes, nose, or mouth of other kids, as germs tend to enter the body through these points.
Boost the Immunity of Your Child
Immunizations help protect your kids from various contagious illnesses and help to keep disease from spreading. You should start vaccinating your kids as per the
vaccination schedule
prescribed by your pediatrician. Get the vaccinations on time and keep a record of accurate vaccination at home. Immunizations cost less than getting treated for the diseases. Also keep an eye open for symptoms as early recognition of common illnesses can help prevent the illness from spreading.
Practice Good Habits from Home
To keep the immunity up, you need to start cultivating healthy habits in your kids right from the home. Make sure your children are resting well and
eating healthy
. Practice
good hygiene
habits daily and make sure that every family member does the same. The best way is to limit the spread of potential germs as much as possible. The steps taken for these are not tough, take very less time, and are highly effective. Eating a well-balanced diet, getting sufficient sleep at night, and exercising daily will make it easier for your kids to fight off the contagious diseases.At the same time when you are teaching your kids to follow the hygiene habits, you should be responsible to follow the same and ask other family member also to follow them. Not only kids, but even you and other family members should wash hands effectively, cover the mouth while coughing or sneezing, stop sharing eating utensils and other personal things, get vaccinations done on time, and follow other
good habits
. With just few simple steps, you can protect your kids from many germs and illnesses.
Which are the common contagious illnesses in kids? How to prevent contagious illnesses in kids? What are the ways to teach basic hygiene and healthy habits to kids? Discuss here.