Signs That Your Child Has Low Self Esteem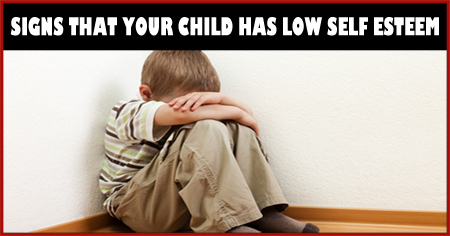 Low self esteem in children can give rise to many other developmental issues in them. Read on to learn about the signs that your child has low self esteem and how you can build it up.


Children with good self esteem are capable of acting independently, handle negative and positive emotions successfully, carry on responsibilities and handle peer pressure appropriately. Therefore, boosting self esteem of children right from early childhood is important.

Many youngsters with learning and attention problems are laden with low self esteem. This is the reason why it becomes very important for parents to know about the signs that indicate that their kid has low self esteem. Although the signs of low self esteem vary from one child to another and even from one situation to another, there are some common signs that clearly indicate that your child is suffering from low self-confidence.

Signs That Indicate Your Child's Low Self-Esteem

1. Your child makes negative statements about herself and others often.

2. Seems discouraged and unwilling to attend school.

3. Avoids a task without even trying. This shows she has fear of failure and a sense of helplessness.

4. Makes excuses and tries to put the blame on others.

5. Not interested in making friends.

6. Makes self-critical statements like – nobody likes me, I never do anything right and so on.

7. Quits very soon after taking up a task or playing a game.

8. Cheats or lies when she finds she is going to lose in a game.

9. Does not accept any kind of feedback. She might believe the compliments are not true.

10. Starts to withdraw from social activities and friends.

11. Starts bullying others.

12. Is either very helpful or not helping at all

13. Her mood changes frequently and shows angry outbursts, cries, gets frustrated or simply gets quiet.

14. Becomes over conscious about other people's opinions about her.

15. Her academic grades are going down or she loses interest in doing almost everything.

One of the biggest problems with low self esteem children is that they do not often come up seeking help. Instead, they try to retreat and often become self-centred. It is the responsibility of parents and teachers to help such children and boost their self esteem so that they start feeling themselves special.

How Parents Can Help Build Self Esteem in Children

Parents should not miss any chance of praising the child when she has done a good job. They should even appreciate if the child is putting in lot of effort.

1. Affection and freedom can also bring lot of change in boosting your child's self esteem.

2. Let your child take the responsibility of her problem and solve it. You can give suggestions and options for solution, but try to let them handle their problems. This will boost her self confidence and make her stronger.

3. Allow your child to rethink and come up with positive ideas instead of focusing negative feelings on themselves.

4. Take time to have one to one talk with your child. This will help you find the real problem to deal with.

5. Help your child express her feelings and you can do this by sharing some similar incident of your childhood.

6. Give your child quality time and attention. Try to create a safe space for warm and gentle conversation.

7. Talk to your child at bedtime. Help her observe, respect and consider herself.

8. Help your child to reach upwards by using their potential and by giving them opportunities to practice.

9. Demonstrate to your children that laughing at one self is fine by laughing at yourself. This will show the importance of humour to them.

The parents' main goal should be to make their kids feel secure and confident so that they abandon self-defeating behaviours completely.

What are the causes of low self esteem in children? How to prevent children from developing low self esteem? What are the ways to boost self esteem of children? Discuss here.
You may also be interested in: