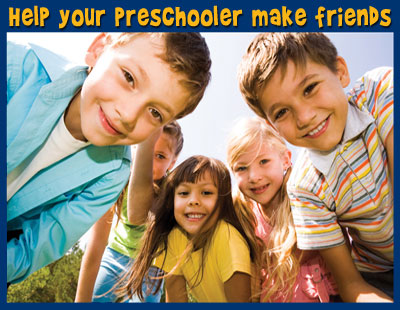 Teach your child how to make friends by working on his communication skills and encouraging him to participate in social situations from a young age with our tips here.

When you put your toddler beside another toddler, you will find that both toddlers are completely engaged in playing on their own, independent of the other. They are immersed in their own world, mostly ignorant of the other's existence. But as they grow older, they begin to desire friendship and their need for social interaction begins to develop.
Your 3 or 4 year old preschooler suddenly feels the urge to play and interact with his peers and is content if he somehow manages to get friends. However, toddlers do not 'know' how to make friends, and need to be taught. If you do not introduce your child to other kids at a young age, their social skills stay underdeveloped and they turn irritable, cranky and frustrated.
If you do not inculcate social skills in your toddler, he will grow up to be a loner and friendless. You need to encourage him to make and build friendships. Here are some tips on how you can help your child make friends:

Work on your child's Communication Skills
Communication Skills are perhaps the most vital skills that one has to learn in life. As social beings, we need to be able to communicate with ease, and communicate effectively. As a friend, your child not only needs to feel for his friends, but also needs to be able to easily demonstrate his empathy, support, and love to his friends. Encourage your child to show he cares for others by teaching them to tend to their friends, sharing toys, asking how they feel, etc. If you care for and demonstrate the above to your friends, your toddler will learn from your example and demonstrate the same care to his friends as you do to your own.

Encourage your child to participate in your Social Life
When you visit a relative or a friend or meet people at a social gathering, bring your preschooler along. Children tend to think of their parents as their first teachers. Therefore, when they watch you interacting and communicating with people, they get to learn a lot from you. They take their behavioural cues from you and learn the mode of interaction from you as well. If you greet people warmly and ask about their lives, your child will learn to do the same with his peers.

Provide Opportunities to Interact With Peers
As a parent, you need to provide your preschooler with an appropriate peer group. You can enroll him in a preschool, get together with other parents and their kids, , plan outings with relatives and group activities with other children. Putting your child in social situations from a young age will help him interact with his peers and behave more comfortable in a variety of social situations in the future.

Be a Relationship Coach
Pay attention to your preschooler's behaviour when is playing or interacting with his peers. Although your child's learns to interact with other children from observing you, he will implement those methods, albeit with some trial and error. He will, therefore, require some monitoring and guidance from you. For instance, you may have to encourage your child to accept another child's suggested idea for play, when your child is playing or participating in a group activity.

Teach Him to Be Respectful Towards All
Misunderstandings are a part of communication development. When kids are learning to communicate, it is quite probable that there would be a lot of misunderstandings. They are primarily caused by the fact that one is saying something, but actually meaning something different, or one uses a different term for a certain thing, which the other kid is not aware of, thereby leading to misunderstandings. Children have a tendency to disassociate themselves with one another even if there is a small clash. Discourage your child from making snap judgements about his peer and teach him to be respectful towards other children's opinions and be open to their ideas.
Finally like all other aspects, here too, you can lead through example. Make sure that you are behaving with dignity and respect when you are communicating with people. Your child is observing you and taking his cues on what ought to be the ideal way to behave, interact and communicate from you. If they feel that what you suggest or teach are different from what you practice, they will get confused and you will find it difficult to make them follow your directives and suggestions.

Why should parents encourage their kids to make friends? How can they help their little preschooler make friends? What are the benefits of encouraging kids to make friends at a young age? Discuss here.