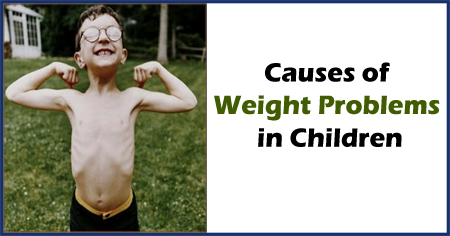 Children may face weight problems due to various factors. Learn about these factors causing weight problems in children and help them maintain a healthy weight.
Weight problems and obesity are two major issues in children which is a matter of great concern if not controlled from the very beginning. Obesity is the cause of many health related problems and serious diseases. It is a misconception that children who are obese are themselves responsible for their body weight.

Overeating and then relaxing without burning the extra calories by doing various exercises are not the only reasons behind obesity. On the other hand consuming foods with low nutritive values, in adequate calories, lack of right nutrients etc can be a cause of low weight. There are a lot of other contributors to weight problems. Some of the causes are discussed below. Have a look at these.


Heredity

This is one of the reasons behind weight problems. Family history plays a very important role in a child's physique. Children born in a family where most of the members are obese cannot be expected to have a normal body type naturally. To keep one physically fit one has to do exercises regularly and devotionally. But the main reason of childhood obesity is overeating and exercising very little. The extra calories get deposited as body fats which makes the person obese.
Poor Diet
It is natural that every child nags while eating. But it becomes the responsibility of the parents to ensure proper diet for their children. If necessary you may consult a paediatrician. He can guide you about the proper diet chart for your kids. High calorie food should be avoided. Foods with a higher nutrient content is what that should be added to the diet of the child. Junk foods and soft drinks should be avoided as much as possible.
Convenience Foods
Working parents rely on convenience foods for their kids. They rely on frozen foods and canned foods to save their time. These are the main culprits of weight problems. Whenever their kids are hungry they hand over some salty snacks or some canned foods to pacify the kids.

Canned food are no doubt very tasty and the kids love to eat those, but the nutrient content of those frozen foods and canned foods is zero. As these foods are tasty, kids tend to overeat such food stuffs and when the parents see that the children are happy they do not create much fuss about it, because they themselves are busy with their daily chores. Parents fail to understand that this happiness is temporary. The health hazards that these foods cause can take a toll of this temporary happiness in the years to come.
Limited or No Physical Activity
Kids nowadays spend most of the leisure time either by watching T.V or are engrossed in the virtual world of computers, laptops, tablets and android phones. They are deprived of spending time in the playground. As a result those extra calories are not burnt out causing the fast weight gain in kids.

Even if the kids do not have the opportunity to go out and play, the parents should always take the initiative to initiate some kind of physical exercise in their daily routine. Physical exercise also helps in maintaining a healthy mind which is very important for the kids during the growth years, as during these years they suffer from various mental stresses.
Psychological Factors
Children tend to overeat when they are depressed. Depression is very common during the growth years and to cope with these stress and boredom children tend to eat more than usual which results in gaining weight among children. So it becomes the responsibility of the parents to release the kids from all kinds of tensions and stress and let them live a healthy life.
Upbringing kids in the proper way is the responsibility of the parents. Preparing a proper diet chart with all the essential nutritious food items is of utmost importance for the proper growth and development of the kids.


What are the causes of weight problems in children? How to prevent weight problems in children? What are the ways to help children maintain a healthy weight? Discuss here.