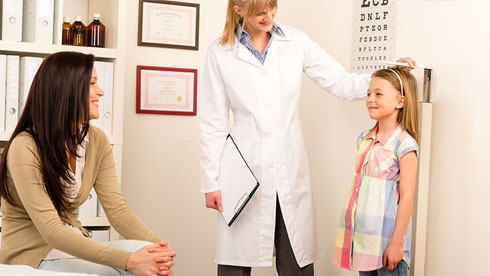 BMI of your kid is a measurement for fat in the body and helps determine how healthy your kid is. Avoid weight problems in kids by being aware of what is BMI?
Health and nutrition for kids is an important and complicated issue. As kids grow it becomes difficult for parents to find out whether their children are maintaining the right weight and height proportion and fall in healthy weight range or not. Therefore, it is important for parents to learn what BMI is for kids and what parents should know about it.Healthy weight is important for children especially during their growing age. As a parent you should be aware of how you are going to determine whether your child is within the right weight range or not. Well, BMI or body mass index is going to help you understand this and help your child maintain a healthy life, today and always.
What is BMI?
BMI is a standard measurement for
fat
in the body. It will also help you learn whether your child is on the risk of developing any health problem in near future or not. It will help you calculate by your
child's weight
and height. Although it does not measure the body fat directly, it helps you calculate the fat in the body. In fact, it is considered as the best alternative to measure body fat because it is inexpensive and easy to perform method is used for calculation as well.
How is BMI used With Kids?
BMI is considered as a screening tool to figure out possible weight problems with kids. It can help calculate overweight or
obesity issues with children
right from the age of 2. The calculation is done just like that of an adult and is based on height and weight of the child. With kids, age and gender are the additional aspects that are taken into account while calculating the BMI.So, it will be easier for you to calculate the BMI of your kid with the help of online tools that will assist you or you can contact your health care provider for details. The BMI percentiles are categorized on the basis of weight which will help you figure out whether your child is underweight, healthy weight, overweight or obese.
Talk to Health Care Provider about BMI for Kids
Today, parents are getting aware of health and weight issues not only about themselves, but also of their children. So, instead of waiting for your doctor to tell you about the health and weight issue of your child, it is better you consult with him about your child's development and growth.Many schools have started measuring BMI of kids in school and they send the BMI report home, so that parents get aware of their child's health. You can take the report and discuss with your doctor to learn whether your child has
healthy weight
or not. It is quite possible that if you make few changes in your lifestyle you might help your child get into the right health and shape almost instantly.
How Do You Know Whether your Child is Overweight or Obese?
If your child is carrying excess body fat, she is overweight or obese. The extra weight that he is carrying can become problem for his health if it is not attended immediately. However, if your child is an athlete it is quite possible that his weight is higher than normal but he will not be considered as overweight because the extra weight is of the muscles and not fat.Remember, BMI of your kid is only a piece of the picture and to take any decision, you need to take into account other factors also. Assessment of diet, physical activity and health are needed. Age and gender are also two important factors that determine whether your child is obese or not. However, you can help your child keep a check on her weight by making some healthy changes in her lifestyle.
How does BMI help in determining child's health? How can BMI of children be calculated at home? Does a high BMI in kids mean a health problem? Discuss here.