Pregnancy Topics..
Fitness Regime During Pregnancy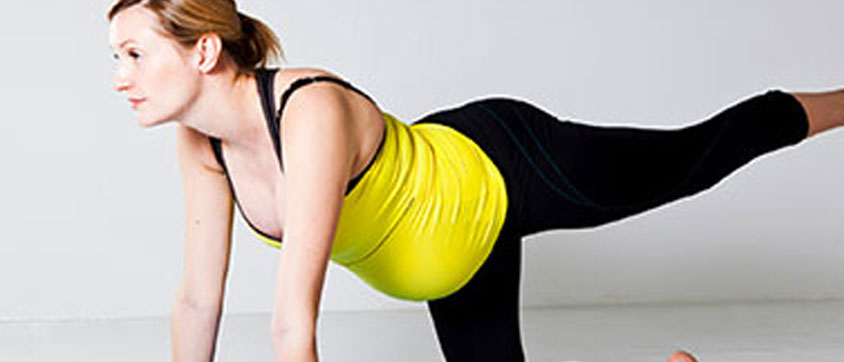 Physiologically, pregnancy is the most stressful period of a woman's life. A fitness program performed before, during, and post-pregnancy aids the body in adjusting to the various growth and recovery stages.

Exercise Goals
Large fitness gains are not an appropriate goal during pregnancy. Rather, the goal should be to maintain the highest level of fitness consistent with a woman's pre-pregnancy physical conditioning. Maximum safety for the mother and child takes priority over weight-loss or strength goals. Exercise during pregnancy helps control weight gain but should not be used as a means to prevent weight gain.
Realistic expectations are important

Exercising during your pregnancy can benefit both you and your baby
It helps you by -
Increasing your aerobic capacity (helpful for the endurance demands of

labor and delivery

), improving circulation and digestion, increasing energy, and ensures more restful sleep.
Leads to improved muscle strength and endurance, which may aid in delivery and recovery.

Stretching exercises

improve

range of motion

and flexibility
Reduces tension, anxiety, and fatigue, an enhanced feeling of well-being, and improved self-image.

Get Your Doctor's Approval Before You Start
All pregnant women beginning an exercise program should seek medical clearance from a physician. In addition, as the pregnancy progresses, the physician may be consulted regarding any necessary exercise restrictions.
Prenatal danger signs that indicate immediate cessation of exercise and referral to a physician's care:
Pain of any kind - chest, head, back, pubic, hip
Uterine contractions at 20-minute intervals
Vaginal bleeding, leaking of amniotic fluid
Dizziness, fainting

Shortness of breath

Palpitations, tachycardia
Persistent

nausea and vomiting

Difficulty walking
Generalized edema (

swelling of joints

)
Decreased fetal activity
Exercise Guidelines
During

cardiovascular exercise

, exercise at a low to moderate intensity (55 to 70 percent of maximum heart rate).
Avoid exercise in the supine position (lying on the back) after the fourth month of pregnancy.
Avoid exercises involving the holding one's breath during exertion), which can increase intra-abdominal pressure.
Sustained vigorous activity (20 to 30 minutes) increases body core temperature sooner. Pay attention to heat factors and avoid vigorous exercise in hot, humid weather.
Hydration before, during, and after exercise affects core body temperature. Drink plenty of water despite concern about urinary frequency.
Regular exercise, about three times a week, is preferable to intermittent exertions. These workouts can consist of any low-impact activity, including walking, swimming, and stationary cardiovascular equipment..
Ballistic (bouncy or jerky) movements should be avoided.
It is recommended that participants exercise three to four times per week.
Pregnancy is a time to maintain fitness, not strive for dramatic improvements. As body weight increases, workload will normally decrease.
Always take time to warm up for eight to 12 minutes and to cool down later. Try to strengthen the muscles that become overstretched due to pregnancy - the abdominal, pelvic floor and upper back muscles, as well as the muscles that become shortened - the lower back and the chest. Good stretches to try are kegels and pelvic tilt. During pregnancy, hormonal changes in the body make muscles, joints, and connective tissue more susceptible to strain and injury.
All participants should wear lightweight, nonrestrictive clothing. Some participant may be more comfortable in loose pants and T-shirts than in tights and leotards. All comfortable, breathable attire is acceptable as long as a support bra and proper shoes with arch support are worn.
Do not use hot tubs, steam rooms, saunas, or spas during pregnancy.

Benefits Of Yoga During Pregnancy
Yoga coordinates movement, breath and awareness. It addresses health and well being on several levels: physical, emotional, psychological and spiritual. Because of its many benefits and the pleasure derived from its practice, the time-honored art of yoga is becoming increasingly accepted everywhere as part of self-care during pregnancy and preparation for childbirth and motherhood. For pregnancy, the traditional positions (postures) are modified for the safety and comfort of the pregnant woman and her baby. These graceful and simple movements can be practiced throughout pregnancy.
Each posture has specific benefits. The Cat pose, for example, increases flexibility of the spine and back, particularly the lower back, often a problem area during pregnancy. Heroine pose is often recommended for nausea and indigestion.
Yoga can help strengthen supporting muscles and release tension along the spine and rib cage and in the upper chest, neck and shoulders, opening the body into proper alignment. As posture improves, the diaphragm can move more easily, allowing fuller respiration.
Deep breathing relieves fatigue and is important for the health of mother and fetus.
The well-being and equilibrium of the pregnant women will have a significant impact on her baby. As a pregnant woman prepares for childbirth and motherhood, she is already creating an environment for her developing child. Yoga helps her calms her emotions and also quiets her mind. The attention is turned inward, connecting with her center and her strength as well as her ability to surrender and yield.
Yoga is an excellent preparation for labor and delivery. Labor progresses more easily if a woman can work with, rather than against, contractions. Yoga teaches this. The pregnant woman learns to become aware of each part of the body and to release tension and constriction using the breath. During labor, she can use this technique to help relax the uterus. Often, a student learns to visualize an image during meditation or relaxation-for instance, to see the breath as a gentle wave. She can rely on this image to help her stay relaxed and focused during
For specific Yoga exercises contact any certified yoga instructor.
You may also be interested in:
Back to Previous Page | More on Pregnancy Index