Pregnancy Exercises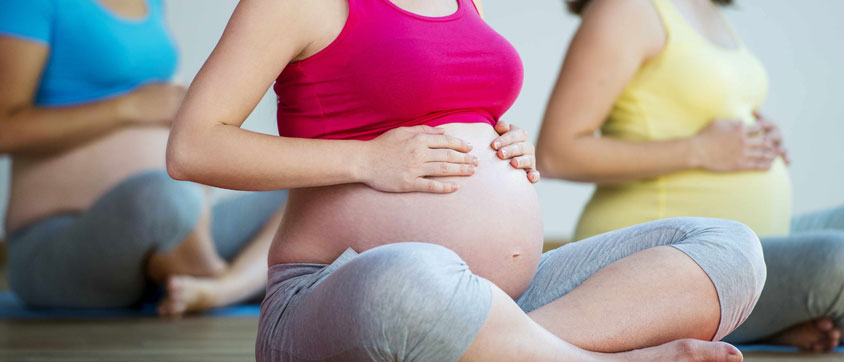 Dr. Tulika, a Lamaze Childbirth Educator, answers the TOP TEN most commonly asked questions on exercise during pregnancy.
Are there any benefits of exercise in pregnancy?

It relieves tension, stress and increases your general strength, improving your ability to carry your large belly. It reduces pregnancy related discomforts such as backache, fatigue, edema (swelling) and increases your self-esteem. Exercise during pregnancy also makes it easier to get back into shape after the baby is born.

When is the best time to begin exercise?

It is best to take permission from your doctor before starting an exercise regimen. Proceed cautiously and avoid overheating as according to some studies, overheating during the first trimester can cause neurological birth defects.

How long should I exercise for?

This varies from person to person. Avoid getting fatigued. If you exercised before pregnancy you should be able to continue with the same exercise, but at an easier pace. Always listen to your body. If you were previously inactive/overweight start with 5 minutes a day and gradually work your way up to 20 minutes over a 2-week period. Consult a Prenatal Exercise Instructor for making a personalized exercise regime that suits your special needs.

Will exercise make birth easier?

Exercise improves your endurance, fitness level and muscle control for a faster, easier and less painful labor: it also strengthens and tones up the pelvic floor muscles.

Can exercise shorten labor?

In a recent study it was discovered that moms who exercise until the last day will have a 30% shorter labor, and about 65% of exercising moms deliver in less than 4 hours.

What are the absolute contraindications for exercise?

According to the American College of Obstetricians and Gynecologists (ACOG), the mother should not exercise if she has the following conditions.

Haemodynamically significant heart disease
Restrictive lung disease
Incompetent cervix/cerclage
Multiple gestation at risk for premature labor
Persistent second or third trimester bleeding
Placenta praevia after 26 weeks gestation
Premature labor during the current pregnancy
Ruptured membranes
Pregnancy induced hypertension

Pregnancies should be reviewed carefully if the mother has:
Severe anemia
Unevaluated maternal cardiac arrhythmia
Chronic bronchitis
Poorly controlled type I diabetes
Extreme morbid obesity
Extreme underweight (body mass index < 12)
History of extremely sedentary lifestyle
Intrauterine growth restriction in current pregnancy
Poorly controlled hypertension/pre-eclampsia
Orthopaedic limitations
Poorly controlled seizure disorder
Poorly controlled thyroid disease
History of heavy smoking


What is the recommended weight gain during pregnancy?

The recommended weight gain during pregnancy is approximately 11kgs -16kgs (25-35pounds). Exercise decreases weight gain and fat deposition.

If I am considered obese, Can I still exercise?

Yes, an obese woman may be classified as high-risk but she definitely can and should exercise according to a supervised and modified program to prevent and minimize pregnancy discomforts and complications during labor.

Can I lie on my back in my exercise class?

According to ACOG, exercise on your back after 4 month should be discontinued as it decreases blood flow to fetus.

What sort of exercise plan should I go for?

If you are a beginner pick an easy, low impact exercise such as walking and proceed slowly. Cycling is good for the first two trimesters.


Related Article:
Exercise During Pregnancy