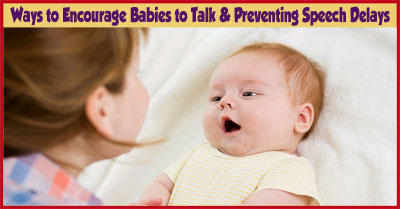 Language Development is a process that begins in the womb and continues throughout you live. Language skills expand drastically throughout infancy from the day your baby is born. In the first few months of life, your baby will learn different cries to show different needs and some different sounds also to communicate. These early language skills will continue to develop throughout the first year in different ways and it is your responsibility to encourage this for a better future of your baby.

Methods for Developing Language Skills in Babies
To ensure that your baby builds early literacy and language skills and masters language as much as possible, you have many roles to play.
Make Eye Contact
Eye contact is the foremost thing you should do while you speak to your baby so that he or she can concentrate. In few weeks of your baby's birth, he or she will also master in making eye contact with parents and caregivers.
Filling the Pause – Ask Questions
After eye contact, the most important social skill your baby needs to learn is that in natural conversations, someone says something, and the other person replies and vice versa. In the first few months, your baby may not understand taking turns, so you need to fill the pauses your baby will make on his or her own with sounds or words. Ask a lot of questions, such as "What is this?" Now answer for the questions by yourself, such as "This is a red dress". You might be talking to yourself and that is how you are modeling the give-and-take conversation and encouraging verbal responses.
Keep Talking a Lot – Use New Words
Get in the habit of explaining as that may help your baby to hear and use a lot of new words. Talk what is happening, tell what you are doing, and also tell what he or she is doing. Remember to use a lot of new and different but simple words to increase the vocabulary. For example, "I am putting Lily to bed now, so that she gets a nice sleep". Your baby might not know now what you are saying but will know very soon.
Pay Attention
After few more months, your baby will learn interacting with silly face, yakking, babbling, or strings of sound, then you must wait for him or her to finish and then make the same sounds and see if he or she repeats it again. He or she will be delighted that you are paying such close attention. Keep the conversation going and the fun on!
Respond to Gestures
As your baby grows, he or she will start using gestures. You should respond to his or her attempts to communicate. Try to understand if your child is trying to deny something by shaking head or he or she wants something by pointing to a toy. Then your role is to answer to frame his or her gestures in words and act as if he or she is saying the same.
Make Them Name It
When babies want something, they generally point it out. When your baby does that, before you give the object to him or her, say the name so that in future, he or she will get to know the names of the objects very easily.
Read, Read, and Read
Share books with interesting pictures and colors, such as sturdy board books, with your baby while you read and point out the items on the page. Talk about the items or the pictures on the book and include descriptive and positional words with lots of repetition. This helps your baby to name the things along with understanding the pictures also.
Rhyme Time
Sing nursery rhymes accompanied by simple actions like clapping so that it appeals to your baby and helps to learn that language communicates feelings and thoughts. Pop in a CD of nursery rhymes to aid in future speech development.
Keep Trying
Chatting with your baby may be a one-sided affair right now, but talking together frequently and naturally would encourage his or her speech and language development. Your baby's responses can be stupid or idiotic, but do not get discouraged. Wish you the best!
How to encourage language development in children? Is speech development delayed if baby is exposed to multiple languages? What are the signs of delayed language development in children? Discuss here.