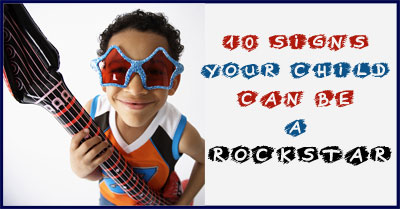 It is very important to identify talent in children at an early age. Every child is blessed with some talent or the other. Therefore, parents must ensure that they identify child's talent at right time and help him or her to excel. Have a quick look at the typical characteristics of children who have a potential to become a rockstar.


Just as the popular nursery rhyme says, "snips and snails, and puppy dog tails"make small little boys while "sugar and spice and all things nice" are the ingredients to create the perfect little girls. But what about the kids who defy conventions and break the rules? What about the trendsetters, the overachievers? We are talking about rockstar children – the ones that were born to lead instead of follow. Although, all children are rockstars in their own ways, here are a couple of signs you might need to look out for in your rockstar child. Identifying these signs in your child will help you to channelize his or her energy in right direction.
Takes Effort for Self-Improvement

Children who have mature and cool attitudes understand themselves better than their peers and they are comfortable in their own skin. If they see an opportunity to better themselves though they will accept it instantly since their entire life is dedicated to improving themselves. It is not uncommon for rockstar kids to be successful in different aspects of life rather than focus their attention on a single field. Most of their actions are reflective of their hard work and they never miss the chance to gain the approval of their friends and family members.


Handle Criticism Well

A lot of children are unable to cope with criticism since it implies that they failed at something. However, rockstar children know where their fault lies and will accept any sort of criticism that is directed towards them if they think that it will help them grow individually.


Focus on the Future

Rockstar kids constantly attempt to avoid bad outcomes to the best of their abilities and they are highly focused on their future course of action. They take into consideration various probabilities since they are self-aware and make good use of any knowledge that you impart to them.


Pressure to Be Perfect

Rockstar kids may seem all composed and tough on the outside but inside they often doubt themselves. Despite being a rebel, they are perfectionists at heart and often try to be the best in every possible way. This creates a lot of pressure but these children need to understand the fact that this is all self-inflicted.


First to School, Last to Leave

One thing that any rockstar kid will never lack is friends. They are extremely popular among their peers due to their attitude and they tend to stay back after class hours, hanging out with their buddies.


Tendency to Get Involved in Many Things at Once

Foresight is something that rockstar children possess but often forget to utilise in the spur of the moment. This leads them to get involved in a lot of different activities at the same time without properly completing any one of them. They will complete them after some time since they do not leave anything unfinished but it will require some prompting on your part.


Actively Asks for Assistance

with Passions and Interests These children are all striving to better themselves and so it is expected that they will turn to you for help from time to time since in the end they are children and cannot comprehend every single facet.


They Understand What Makes you Tick

Rockstar children are observant and they are capable of understanding what actions will appease you when you get angry or dissatisfied with something they did. They will apologize for their actions when they realize what they have done.


They Crave For Love But Will Not Show It

The tough exterior masks a soft heart in every rockstar child and no matter how cool they may seem, they would like nothing better than to get some appreciation from their parents and so it is up to you to oversee the growth of these wonderful children into great human beings.


Finds Difficult to Accept Failure

Rockstar children cannot tolerate failure and most tend to stake their identity on outcomes. According to their worldview, people around them judge their worthiness on the basis on how well they perform in the various aspects of life. However, they are clever enough to embrace failure as part of the learning process with a little guidance from your side.
The above mentioned features are typical characteristics of rockstar children. However, even if your child does not exhibit the above mentioned features it does not mean that he or she cannot become a rockstar. Many superstars and successful people in the world did not show any of the characteristics mentioned above in their childhood but still they were able to become a rockstar. At the same time you as a parent need to take effort to identify talent in your child and boost his or her skills to help him or her become a rockstar.

What are the common characteristics of rockstar children? How to identify hidden talent in children? How to encourage children to become a rockstar? Discuss here.