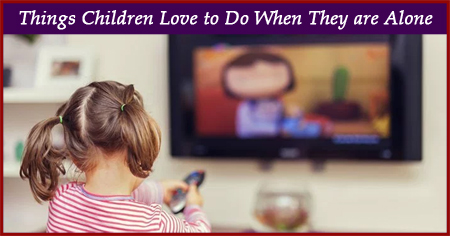 Parents are always curious to know what their kids are doing, especially when they are alone at home. Find some interesting facts on things that children usually like to do when they are alone at home.

Have you ever wondered what your kid might be doing when you leave him alone at home? Well you can gauge this very well when you come back and find the house in a total mess with things toppling down over the other. You always remain in a constant fear whether your
child is safe or not
left alone in the house. You can no way expect your kid to sit quietly in one corner of the room until you are back. Here are some of the things discussed that kids love to do when they are left alone in the house.
Dig Out His Toys from the Closet
This is the best time to play detective and find out his toys which you have kept hidden somewhere because your child was not listening to you. When he is alone in the house he tries his best to find out his
toys
. He brings out the video games set and start playing it until you are back home.
Watch TV to His Heart's Content
He gets the best opportunity to watch his favourite
cartoon shows
on the TV when there is no one else in the house who could tell him to switch off the TV and go to the study. He can watch TV to his heart's content without anybody disturbing him.
Do Something Which you Prevent Him to do Otherwise
Being alone is the opportunity to feed the curiosity that he has nurtured for so long. He knows that you will not allow certain things that he wants to do. So he experiments with all those ventures when no one else is in the house. Sometimes it ends up into something very cool and sometimes he destroys the thing to feed up his curiosity. May be he wants to open the TV remote and see the battery inside or he wants to experiment with the plug points which may be very dangerous. So, if your kid has something in his mind like this, do not stop him from the experiments that he wants to perform. Let him satisfy his curiosity in front of you so that you could alert him of the possible dangers that could happen and his urge to do something secretly will be lessened.
Eat His Favourite Stuffs and Look for Others in the Refrigerator
When your kid is alone in the house he would like to taste spicy stuffs that you otherwise you do not allow him to eat. He will open the refrigerator and see what is inside. If he finds a bowl of ice cream he will sit with it and finish it all before you come and find him enjoying the ice cream.
Making Hoax Calls to His Friends' Home Number
This is the most mischievous things that kids do when they are left alone in the house. They dial numbers of their friends and relatives and quickly put down the phone just the moment someone picks it up from the other side. Some kids even dial random numbers and end up making hoax calls like this. You realize it when you get the phone bill and see the figures on the bill.
Imitate What They See
Little boys will take out their father's shaving kit and will try to shave and end up getting bruises and cuts in the skin. While little girls will mess their faces with the
makeup
kit of their mothers or try wearing her mother's clothes and imitate her mother.
Leaving the kids alone at home is not a very good idea. You can always keep a nanny or a caretaker or at least get a CCTV installed in the house to know he is safe.
Is it safe to leave kids alone at home? What do kids usually like to do when they are alone? What precautions should parents take when they leave their kids alone? Discuss here.