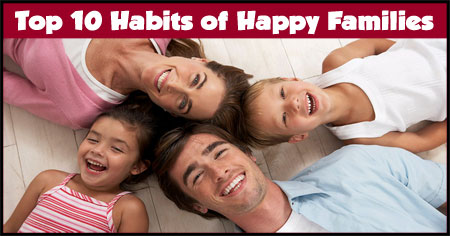 To raise children as well-balanced individuals their upbringing needs to happen in happy families. Read on to learn about the top 10 habits of happy families.
To lead a happy family life it is important that you take part in solving out the family issues together, respect each other and value each other. Here are some of the habits of happy families given, have a look at these.

1. Communication
Communication is the only way to relate to each other. Families that interact with each other are the happiest families.
Nowadays, due to work load the members of the
family
do not get the opportunity to interact to each other. It happens that when the dad comes home the children are deep asleep and before the father gets up in the morning the children are off to school. This creates a distance between the parents and the children which is not desirable at all. So try to make out some
time to spend with your family
. Even an half an hour break to sit together will do. This time may be at the dinner table or after dinner before going to sleep.

2. Enjoy Each Other's Presence
Just as the kids get very happy seeing their parents coming from work, the parents also need to show their happiness seeing their kids after the whole day work. This creates a heart to heart connection with the members of the family and the
bonding
between the children and their parents grow stronger.

3. Do Not Be Rigid
Reports have shown that the families that are flexible are much happier than the families that are rigid. You need to be more flexible in whatever you do may be disciplining your kids or entertain them or even when you inspire your kids.

4. Limit Your Arguments
Arguments are very common in a family but try to limit the frequency of your arguments. Try to limit them to two to three minutes because reports have shown that most of the arguments have important points in the first few minutes and later on the same thing is repeated but now at a much higher decibel and with aggression and stubbornness that leads to serious fights.

5. "We" Instead of "You"
Stop accusing each other and try to figure out your own faults before pointing out to the other. Instead of "you did this wrong", use "we got this wrong". This pacifies the situation and keeps the situation in control otherwise this becomes an ego fight where none of the members accept their faults and the arguments go on.

6. Take Decisions Together
Never try to make yourself superior by forcing your family to follow you. Instead if you sit
together and take decisions together it will make the other members feel their importance in the family. Value each other's decisions.

7. Respect Each Other
Respect is something that needs to be earned. If you give respect to others, you will get respect in return. Kids should also be respected and then only they will learn to respect others.

8. Invite Older Members of The Family Over
People get wiser with age. So whenever you find some difficulties you can take ideas from the elder members of the family. It is also a gesture to show them that their ideas are valued and they are respected.

9. Family Before Friends
Always give the first priority to your family. This is also to be taught to your kids. Offer them entertainment at home so that they do not have to feel the urge to put their friends in the first place.

10. Never Fight in Front of Your Children
Try to avoid
arguments in front of kids
because kids love to follow what they see. They will repeat the same things and you will not like it.
Adjustment is the key to a happy family. Everyone needs to adjust and make a little bit of sacrifice for each other in order to be happy.
What kind of habits do happy families follow? What role does a healthy family environment play in the development of children? How to ensure healthy family environment for kids? Discuss here.