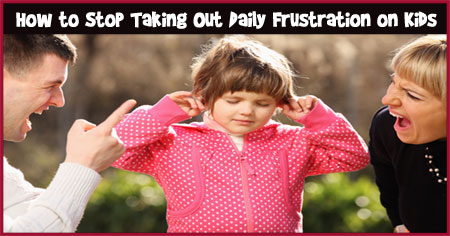 Kids can become victims of stress and depression if parents take out their daily frustrations on them. Here is what parents can do to stop taking their stress and frustration out on kids.
Kids look at their parents to find out solutions to their problems. But if they find their parents are themselves confused and stressed all the time, they will make out an idea that certain situations are unsafe. If you cannot manage your own anxieties effectively, chances are that your child will show similar
anxious behaviour
. It is a kind of transmission of one's stress to another.
So to give your child a better future you should learn some techniques of how to control your own fear and anxieties so that it may not get transmitted to your kids. Here are some techniques discussed. Have a look at these.
Do Not Show up Your Anxieties
Even if you are dying out of some anxieties inside, do not let that come out in your expressions. Keep a composed behaviour outside, smile at your kids; do not make a sordid face so that your kids find out that something is extremely wrong with you. Try to
keep your calm in front of your kids
.

Explain the Causes of Your Disgust
It sometimes happens that you shout at your kids even at the slightest of mistakes on their part because you are not well inside. If this happens, explain your kids the reason behind your losing your temper, so that they understand how hard it is to thrive in everyday chores of life. It helps the child to understand that everyone feels the stress sometimes or the other and that stress can be managed. By explaining things to your kids you will be keeping away from passing your own anxieties to your kids, as they will understand the reason behind your reactions.

Be Prepared in Advance
When you know that certain things put you in horrible stress which sometimes becomes unmanageable and you start putting that stress on your kids, hold the stress causing things back. Be prepared well in advance not to go through such things which may put you in difficult situations. Try to find out some other alternate ways that are more easily coped with. Make your preparations in advance to handle such stressful situations. Do not let yourself fall prey to anxieties and do not let your kids suffer from your stress.
Get a Supporting Friend
Talking of your stress to somebody whom you can rely on can help you lower your anxieties. It may be your friend, your spouse, your colleague or anyone whom you can trust. They can also give you some ideas of how to cope up with certain situations. Getting a proper support reduces anxieties. You do not need to
shout at your kids
to vent your anger on them. You can keep your calm at home, and your kids will find the same normal situation at home, finding their parents behaving normally again.
Take Help From a Professional
It is very important to learn the techniques of how to manage your own stress from a professional if you are unable to handle your stress and frustration. A professional in mental health can help you learn those techniques. Learn how to put up with your own
stress
so that you can teach your child how to stay calm in times of adversities.
Passing your own stress and anxieties to kids make no sense, as they are too small to understand the complications of life. They only understand that their parents are reacting oddly. They try to find out the reasons behind such anger. And when they fail to figure out any reasons behind such behaviour, they start feeling insecure. They feel deprived of the love and warmth of their parents. They start to feel scared of losing their parents. This
causes stress to the kids
which can become fatal for them.
Why is it not possible for parents to handle stress sometimes? What compels parents to take their stress and frustration out on kids? How can parents stop taking their daily frustration on kids? Discuss here.