Raising Children Topics..
Parent Traps - part 2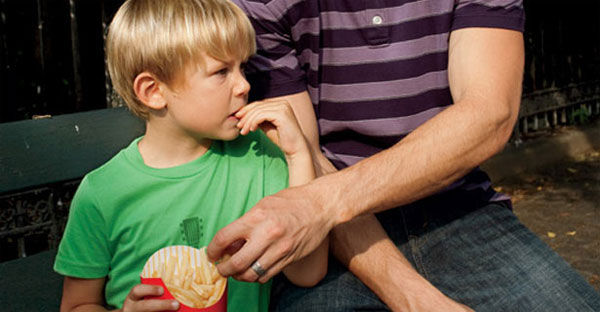 Here is the second part of the Parent Traps series. Find out if you fall into any of these behavioural traps.

THE MANIPULATOR

A manipulator is a parent who makes the child feel guilty by manipulating every situation. This is nothing short of emotional blackmail. It is a sign of an insecure and selfish parent. Such parents also play their children against other individuals, according to personal convenience. Comments like, " I have done so much for you and you cannot even do this much for me," are typical of such crafty parents. Such threats have a short-term effect. But honesty always pays in the long-term.


THE BALLOON

A balloon personality is obviously someone full of oneself. Such a parent can make life difficult for a child. These parents talk a lot and naturally dominate the child. They bombard the child with boring details of their achievements. Children dislike such Mr or Mrs Know-it-all. Children want space to grow.


THE CLAMMER

A clammer is a strong and silent type of parent, using few words and expecting instant obedience. Such a parent instills fear in the child. The child cannot open up, constantly sensing unspoken resentment. A parent must speak out to the child. Communication is the most important aspect of a parent-child relationship.


THE PUSHER

A pusher is a highly ambitious and impatient parent putting too much pressure on a young one. This kind of a parent is a total workaholic and a high achiever. As a result, the child is thrown in a very insecure and competitive arena, and that too for no reason. Such parents must allow the child to relax and enjoy the childhood. Otherwise, they will create a hypersensitive child.


THE DAMPER

A damper parent always discourages a child from any activity. Such a parent thinks of the worst-case scenario. Being a pessimist and a negativist, the parent demotivates the child. A young impressionable mind is bound to feel depressed in the company of a pessimist. Therefore every parent must have a positive approach to life.


THE EXPLODER

An exploder is a parent with an extremely volatile temper, absolutely frightening the child into submission. However, temper tantrums make any child unstable. Children cannot gauge the causes of the mood swings. They are left guessing. This does not lead to a friendly parent-child relationship.
You may also be interested in:
#ContestAlert
(45214 views)
Back to Previous Page | More on Raising Children Index
Discussion Forum - Recent Posts

What kind of a parent are you. A perfectionist or a rule maker. A pusher or an exploder. Have you ever thought about what kind of a parent are you. Are you just a demanding mom or a fussy dad Can you be your child's best friend. Someone whom your child can grow to love, respect and trust more than anyone else in the world. Someone whom your child can come to with his or her worst fears, hopes, dreams and desires. Someone who is a good listener. Well, that constitutes an ideal parent. What kind of parent are you. Share with us!


Vishnu
I do not believe in this concept of Parent s must be their child' s friend. You will often wind up confusing your child as to what your relationship is. There are times when children are actively look...

Lubna
I share a very friendly relation with my children. More than a mother, I am their friend. Due to this attitude, the feel free to share everything with me!...

view more >>

DISCUSSION FORUMS ON
Articles
RE:Lessons From Children
hello editor,
sometimes its right, and sometimes its wrong also, childre ... - anudas read >>

RE:Lessons From Children
hello editor,
the adult definitely learn lots of things from kids, and n ... - ajinkya read >>

RE:Lessons From Children
hello editor,
kids are very innocent and they dont know who is smart per ... - niraja read >>

RE:Lessons From Children
hello editor,
sometimes its right to say we adult learn from childrens a ... - umesh read >>