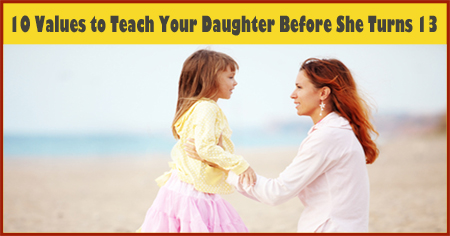 Before your daughter turns 13 it is very important you instil values in her so that her life becomes easy, comfortable and good. Her education as a woman should be done by now. Read on to learn about the values your daughter should imbibe before she turns 13.

By the time your daughter turns 13 she would become cautious about her looks, curves and schedules. Although, it is important that parents start teaching values since childhood, there are certain morals and principles which your daughter should learn and imbibe before she turns 13.
1. Don't Be Afraid to Say 'No'
It is not always good to say 'yes' because there are times when we are either short of time or do not want to do few things. You must make your daughter understand the difference between right and wrong, good and bad. Teach your daughter to be honest and say 'no' when she thinks that is the right answer. Let her be honest and do not commit to everything that comes in life.
2. Being Oneself
Teach your daughter the importance of 'being oneself'. Inculcate positive feelings about herself in your daughter. Teach her to accept herself and be happy about what she is, the way she looks and what she does.
3. Be Humble
Although it is good to be self-confident, being humble will always attract others towards you. This will also make you stand out and get honoured as well.
4. Hope for the Best and be Prepared for the Worst
This is a proverb that kids should know before they enter into their teenage. Teach your
daughter
that life can turn upside down in a moment. So, never take things for granted. Be grateful and tell people who are near and dear to you what they mean to you.
5. Try Not to Feel Bitter About Anyone
Life is too short and so, you should teach your daughter not to hold grudge against anyone. Being hurt or disheartened is obvious, but you should teach your child to let things go and forgive.
6. Gender Equality
Prevent your daughter from discriminating based on gender. All men and women have equal rights. So, being a female, it is not correct to be always against males and take sides with females even if they are wrong. Tell her that all individuals are human beings before being distinguished as males or females.
7. Embrace Potential
Teach your child to learn and accept her potential. She should not
compare
herself with others. Instead, let her understand that her future is limitless. With right connection, effort and resources, she can do anything she wants to. Let her fail and develop right skills so that she succeeds eventually with a little bit of
patience
.
8. Develop Healthy Habits
Eating nutritious food on time and exercising daily should be adopted as daily schedule. Teach your daughter to listen to her body and eat sensibly and moderately. Show her the benefits of exercise for lifetime.
9. Be Well Dressed
This is one of the most important values that your daughter should imbibe before turning 13. Dressing appropriately is one of the important
life lessons
taught to
girls in India
. Although, everybody has a freedom to be dressed as per his or her choice, there are some dressing etiquettes which must be followed. Such dressing etiquettes must be taught to girls from early childhood itself. They should be made aware of all the disadvantages of dressing inappropriately.
10. Value Money
Even though money is not everything, you should teach your daughter to save some for future. Spending every penny is not a wise thing and this will help her a lot in future.
The culture and values would teach your daughters about authenticity and honour they might have missed. Let them know about the beauty that lies within lasts a lifetime and that cannot be achieved through cosmetics and makeup. The above values are significant and will help your daughter be a woman every day. This will definitely make a huge difference and your daughter will be better off than you.
What is the difference between an upbringing of a girl and that of a boy? Which life lessons should be taught to daughters before they grow-up? Which values should be inculcated in children, especially in daughters? Discuss here.