Raising Children Topics..
Sleepovers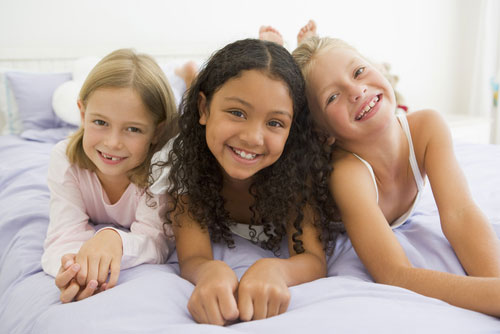 Most parents are not always immediately comfortable with the idea of sleepovers and parents in India, being more conservative than their global counterparts, even less so.

Rashmi Vohra, mother of two pre-teen boys, completely prohibits sleepovers. She doesn't mind friends of her boys coming over to spend the night, but her sons are forbidden from spending the night at their friends' houses. Uday, her husband, disagrees with this decision, but refrains from interfering. According to Uday, sleepovers are an important part of growing up. "They are almost a rite of passage, but I understand Rashmi's concerns. Perhaps she will be more at ease when they are a little older."

No matter how old your child, sleepovers with friends cause immense enjoyment. However, sleepovers also provide parents with a lot of apprehension and parents find it easier to put their foot down and disallow sleepovers than to address their apprehensions.

Your child will be forming friendships at every stage of his life but remember that at least some friendships he has formed during his childhood years will last his entire life. Bondings within a group are likely to turn out to be very strong when the children spend nights together, which is also perhaps why children who go to boarding schools have friendships that run so deep.

Take your children's wishes seriously. If your child's entire group of friends spends nights at each other's house, it may be unfair on your child if he is excluded every time. Although the decision is ultimately up to you and you definitely know what's best for your child keeping your particular circumstances in mind, ask yourself if you wouldn't feel more comfortable if you knew the parents of your children's friends. If the answer is yes, consider inviting them over for a cup of tea or dinner. Or, invite your children's friends over to spend the night at your place first so you can get to know the kids and request the parents to drop off the children themselves and to stay back and have a drink or tea with you. They would like this too, as it gives them an opportunity to get to know you, and vice versa.

Once you know them and are convinced that they have fairly similar values as you, you may feel comfortable letting your children spending the night at their house. All parents love their children, but while one parent may have no problem passing a glass of whiskey to their children, the same action may send shudders down your spine. It is thus important to know the parents of your child's friends, especially when your child is still young, before you let them spend the night at their house.

If you are worried about what your child will do when spending the night with a friend, speak with that friend's parents. All parents will understand your apprehensions, and it will most certainly not be out of line to have a word about your concerns. If you do not want your children to go out after dropping them to their friend's place, let the parent know. You could also fix up rules with the parents like no surfing the internet, and so on.
You may also be interested in:
Back to Previous Page | More on Raising Children Index
Discussion Forum - Recent Posts
Does your child want to sleep over at a friends place? How comfortable are you with the idea? What do kids do at sleepovers?

view more >>
DISCUSSION FORUMS ON
Articles
RE:Lessons From Children
hello editor,
sometimes its right, and sometimes its wrong also, childre ... - anudas read >>

RE:Lessons From Children
hello editor,
the adult definitely learn lots of things from kids, and n ... - ajinkya read >>

RE:Lessons From Children
hello editor,
kids are very innocent and they dont know who is smart per ... - niraja read >>

RE:Lessons From Children
hello editor,
sometimes its right to say we adult learn from childrens a ... - umesh read >>