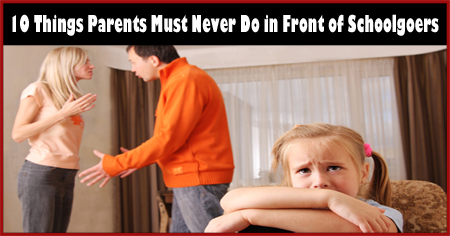 Certain things can have far reaching effect on the growth and development of schoolgoers. So, parents must avoid doing such things in front of them. Let us take a look at the 10 things which parents must never do in front of schoolgoers.

Psychologists around the world are complaining that most of the cases of depression are because of parents. They claim that the kids they have talked to all blame their parents for their condition. Kids who are violent in nature say that their parents had abuse them verbally and exposed them to violent
behaviour
.
Kids pick up things that their parents do or say in front of them and that in turn mould their mindset. Kids, who love to gossip and talk, are kids who have imbibed that habit from their parents. This is a very common phenomenon. While in some cases the habits are nothing caustic for the child, many a times they are. Parents should know what not to do in front of their children. Here are some
things parents must never do
in front of their school going child.

1. Constantly Criticizing
When your child brings home something they have made or written in school do not criticize them. Often if parents are too highly qualified they tend to look down upon everything. They pass negative comments on the work of their kids. It completely demoralizes your kid.

2. Saying Bad Things About Others
If you do not like somebody that is fine, but avoid relaying that dislike to your child. Children have the same attitude as their parents towards people. If you show dislike towards a person, your child will also show similar dislike towards the respective person.

3. Blaming Teachers
If you feel that the teacher of your child has done something bad or wrong, talk to the school authority or address the teacher personally. Do not criticize the teacher in front of your child. It will make them disobey and disrespect the teacher.

4. Using Abusive Words
Control yourself from abusing your child. Many parents abuse their child almost daily. Such children in turn grow up to be abusive adults. No matter how frustrated you are, do not vent it out on your child by verbally abusing them. They might use such language in school.

5. Showing Anger
If you are angry go to a room and stay away from your child. You should not show your
anger
in front of your child. When people are angry they tend to lose control of what they are saying. Your child should not hear such things.

6. Accusing Spouse
Many parents are angry or frustrated about their spouses. They even start
fighting
with their spouse in front of kids. Your children are not mature enough to understand such things and it can have negative impact on them. Abstain from doing so in front of your schoolgoer. It will affect their love for the parent.

7. Using Curse Words
Never use curse words in front of your child. A lot of children are found using swears and curse words in school. They mainly learn it from parents.

8. Negative Things About School
Many parents have the tendency to tell kids how horrible their school life had been. Children who have just started school tend to believe their parents. They begin to detest school too, because of what their parents had said. It is natural for kids to be psychologically affected by what their
parents say
.

9. Complaining about Homework
Homework is essential for a student. Yet many parents keep complaining as much as the students about homework. The children also feel that their complaints are validated and develop a negative attitude towards it.

10. Passing Negative Comments
Never pass negative comments on anything to your kids. Let them decide for themselves how a thing is. If your child is watching a movie or reading a book, never say negative things about it. It fixated the child's opinion about it. But do not forget to teach your child to differentiate between good and bad.
Schoolgoers are still learning. Parents have to be careful with them as they learn everything by watching them. What they learn now will stay with them all life.

What are the effects of parents' behaviour on kids? How can parent avoid negative impact on the development of kids? Which things should parents avoid doing in front of their kids? Discuss here.