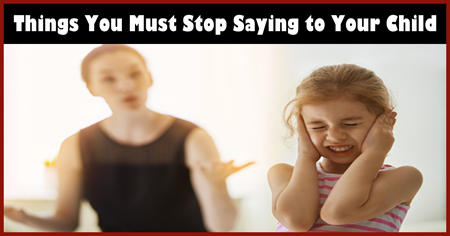 Saying certain things can cause ill effects on the development of kids. Have a quick look at some phrases which you should stop saying to your child.


As a parent you need to be very cautious when speaking with your children. They have delicate mind and one word of you may hurt them terribly so much so that they lose all their self confidence. This tends to be a very sensitive issue and you must deal with it very cautiously.
Things that you should never say
to your child are discussed in this article, have a look at these.
1. "Shut up"
There are times when in anger and rage you end up shouting at your kids uttering this phrase. This is as humiliating to adults as it is for your kids. It breaks down their self confidence level and mars your relationship with your children. Such words of humiliation should never be uttered in front of kids. Moreover, your kids will repeat the same things that they hear frequently. You model your kids so try not to vent out your anger on them and humiliate them in front of others.
2. "Well, let me solve this for you"
Helping your kids with their homework is a good thing but solving their entire homework is not. You can at the most help them with guidelines but let them do the solving themselves. If they make mistakes let them do because they will learn from their mistakes. Correct them instead of scolding them for any wrong steps.
3. "Try to be like him"
Stop uttering such words to your kids. By saying this you are
comparing your kids
with others. It creates frustration in kids and they end up making more enemies then friends. When they see their mom comparing them with their
siblings
or friends they somehow manage to prevent this comparison and if they cannot they will try other ways to create trouble.
4. "If you do this I will give you a reward"
This is sort of
bribing your kids
out of anyway. This is not a good habit because by doing this you are simply accentuating your kids' expectations and somehow if you cannot meet up to their expectations they will gradually lose belief in you. Try not to bribe your kids, instead ask them gently to do something and explain then the good benefits of doing such things.
5. "I promise"
Promises and pledges are too hard words to discuss with kids. Do not make promises that you know you cannot keep up to. Instead tell your kids that you will try to do something. This should be enough for your kids to have faith on you. You do not have to swear for anything and if you have to then something is definitely out of the track.
6. "We are not able to afford it"
When your child want something from you that you know you cannot afford, do not tell them that you cannot afford. Just tell them that you cannot buy that because that is not so useful and you do not want to spend your money on unnecessary stuffs. If you say that you cannot afford something then it signals that you are not capable of managing your own finances that may scare your kid. So instead using such phrases gently ignore the idea of buying him what he wants. Go for a discussion if needed but never allow your kid to nag with the same thing for a long time.
7. "I will punish you if you do this"
Such words scare your kids. This compels them to
hide things from you
because nobody wants to be punished. So do not use such words in front of your kids. Giving empty threats is also one of the parenting mistakes as empty threats do not work on children always.
These phrases should be avoided as much as possible when you are dealing with kids. Be calm and gentle when you are talking to kids. It will help you know their innermost feelings which shouting and screaming can never help you.
How to talk to kids? What kind of things should parents avoid saying to their children? What are the ill effects of saying negative things to kids? Discuss here.