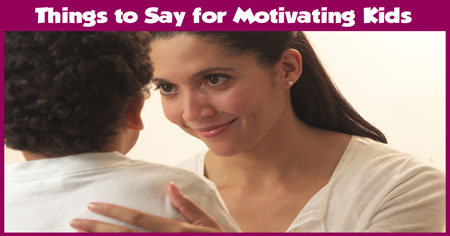 Bribing kids is the most common parenting mistake. Here is how to encourage overall development in your kids without bribing them.

Raising kids is certainly a tough job, but there is no job that gives you pleasures as much as a parenting job does. You inject manners and discipline in your children and see them grow up in front of your eyes.
Motivating kids
is another essential part of parenting job. Bribing them to get motivated may be useful for a particular moment, but its effect does not last longer. To have a serious impact, you have to try motivating your kids without bribing them.

1. Be a Role Model
If you want your kids to eat their vegetables, you should first eat yours. If you want your kids to understand that activity is fun, get up early, fit in your tracking pants and walking shoes and go for a walk together. If you want them to respect elders, you show
respect
to elders in front of your kids. You do not have to bribe them to motivate them to follow good manners as they will learn them by looking up to you. Kids always start copying what their parents do at an early age. Be the role model and see how your kids also do what you are doing.

2. Reward them with Your Time
Kids love attention. It is really effective if you decide to give your precious time to them. Avoid bribing your kids with TV time or video game time. Instead, ask your kids to plan the whole day in a way they want to spend with you. Go for mini-golfing together. Go to market together and do grocery shopping. You can also take them to a museum. Allow your children to find out the way they want to spend the day with you – this reward of making active time together is best among all.

3. Praise Your Children
Catch them at doing or being good and never forget to
praise them
on such instances. This motivates your kids than any bribery can do. Focus on the efforts your kids have put in doing something good, instead of only praising the end result. When your kids show you a picture they made, do not just say it is great; praise them for how hard they worked on the painting. Allow them to know how proud you are because of them being good. Note every detail. If you want your kids to participate in a game, do not focus on winning or losing the game; instead praise them when they practice for the games.

4. Inspire Your Kids by Watching Others
Watching others at being good is motivating than even your words. Take your kids to watch a high school soccer game. Go kick the ball when you are back home and see how your kids respond after getting inspired by watching the soccer game. Take them to the circus to show them acrobats or ballet. They are very motivating. Kids love to look up to you and also others that can inspire them - use the advantage.

5. Allow Them to Choose
Giving options or giving some control to your kids
makes them responsible
as well as motivates them. Instead of ordering your kids to do a task, give them options if they want to do the task now or sometime later. Ask them if they want to empty the dishwasher or do the laundry. The tendency of
fighting back
when they have no control is controlled when you give them the control. This also teaches them how to make healthy choices in future.
Bribery is a failure act for long-term parenting. It is difficult to resist the urge to bribe your kids to get things done, but you need to control. These above mentioned ways will surely help in motivating your kids and you never have to think of bribing them.
How to motivate kids? How does bribing affect kids? What is the difference between bribing and rewarding kids? Discuss here.