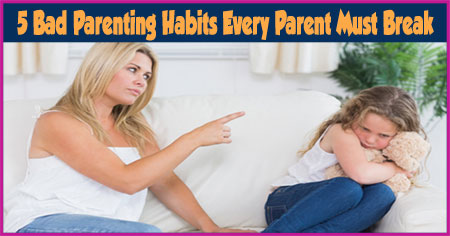 Bad parenting habits can create a bad impact on the development of kids. Here are 5 bad parenting habits that every parent should break.

Being a parent does not give you the privilege that you can do anything and no one is watching you or no one will find faults in whatever you do. But remember one thing, you are being constantly watched by your kids and all your actions and reactions are being absorbed by your kids. It will be followed the very next time and then you might not like it.
So before it is too late, check your bad habits and inculcate all the
good habits
in your kids by being an example to them; because you are going to be followed by every inch, by your kids. Read on to know, what the bad habits are that you need to break, being a parent.

1. Never Talk Negative
It is very natural that you may not like someone, but never show your hatred towards them in front of your kids. Never talk negative or have a foul mouthed conversation about that person when your kids are around, because it may happen that the person you hate is a special one to your kids. Hearing you talk negatively can make your kids feel stressed; she may not like to meet that person the next time around. Or in the worst case scenario it may happen that your kids repeat your words about that person in front of him or her only. It will be a very embarrassing situation and you may not be able to manage it.

2. Try to Control Unhealthy and Junk Food Habits
Being busy cannot be an excuse to live on junk foods and readymade food stuffs like pizzas and burgers. Just to curtail time, some parents give burgers in the lunch boxes of kids and become the best moms, because kids love all these. But you need to understand that you are pushing your kids to danger. So start living healthy by avoiding
junk foods
as far as possible.


3. Do Not Lie
Never lie in front of your kids, even if the lie is not causing harm to anyone, a lie is a lie, and kids understand it very well. When you are lying to your spouse about something and your kids watch it, they will feel it is okay to
tell lies
and they will follow your footsteps and cause harm to themselves without really any faults on their part. They will copy exactly what they see.

4. Rewards
It is okay when you reward your child for doing something really good. It encourages her and creates an urge in her to do better. But overdoing something would be harmful for your kids. You do not need to please her by giving gifts for every little thing that she does. Do not make it a habit. Let her understand that if she does something good, it will be for her benefit only. You do not need to bribe her for that, every single day. Otherwise a time will come when she will not listen to you unless and until you fulfil her demands.

5. Say "No" When It Is a "No"
Too much pampering spoils a kid. Do not agree to everything that she asks for. By agreeing you may be pleasing her and both of you will be happy, but remember that such kind of happiness is temporary. In the long run if you see, you are making your child undisciplined. So, stop her when she is doing wrong, say "no" when it is actually a "no".
Children are like soft clay, it is the parents who shape them. So how you will
discipline your kids
depends on you. Ditch all your bad habits and make life easier for you and your kids.

Which are the common bad parenting habits? How can bad parenting habits affect the development of kids? How can parenting quit their bad parenting habits? Discuss here.