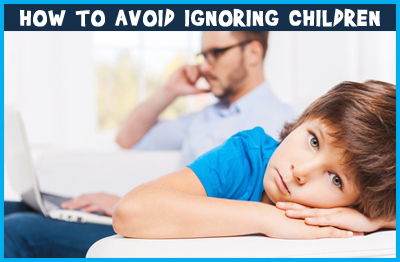 Every child is special and important for his or her parents. A special bond of love exists between parents and children. But, it is also very essential to make them realise this fact frequently so that they do not feel ignored and neglected. Here are some tips which you can follow to make your child feel important.

The best gift a parent can ever give their kids is to make them feel important and special. In today's fast pace life, where both parents are working, children sometimes feel ignored or neglected by their parents. They need assurance from time to time that they are also a very important person and how special they are. There are many ways by which you can keep reminding to your children that they are special for you. It is a wrong notion that children of
working parents
are neglected. With proper planning, it is possible to make your children feel loved and cared for.
Display of Love
There is no denying the fact that you as a parent love your children. But display of your love to your children is very important. Your actions should make them feel that you love them. You need not buy them expensive gifts or
toys
. Simple moments spent together with your children are more than sufficient. Some activities might seem boring to you but it might be very important to your child. Make those activities special and important by getting involved in them.
Give them a hug
or an occasional kiss and make them feel that you are there for them always.
Involve Them in Decision Making
Let your children also learn to take decisions. Take their suggestions too that involves them. This will
increase their self-confidence
. They will also be more independent. Let them start by taking small decisions first. You may let them decide what dress they would like to wear or which game they would like to play. Let them initiate. Give them small tasks and errands to do. Appreciate them for their good work.
Respect Their Feelings
Children too have a heart. Do not discourage them at any cost. Listen to them. No matter how busy you are, never ignore them when they are talking to you. You must never criticize your children. This may affect their
self-esteem
. Respect their choices or decisions. Every child is unique and different from one another. Stop comparing them. Accept your children and respect them for what they are.
Spend Quality Time with Your Children
Whatever time you spend with your children, make those moments special and beautiful memories for them to cherish forever. Read a book with them. Talk to them about their day in school. Ask them about their friends. Interact with your children. Plan or chart out your work schedule so that you can spend some time with your children.
Play with Your Children
Play some energetic games with them at least during weekends. Make playtime a fun time. Although children play with their friends, they feel good if their parents too can play with them once in a while. You can also have a simple pillow fight before bedtime. Solve a puzzle game with them and let them win the game. Give them the pleasure of winning.
Help Your Children
You as parents can do a lot to help your children in making them feel important. Childhood does not remain forever. Children really grow very fast. The moments that we spend with them are very important. Help your children to grow up into a responsible and confident person. Love them, spend time with them and enjoy every moment of your parenting. Reflect positive energy on your children and let them feel good about them and make them feel important.
Beautiful moments of childhood are never forgotten. Children carry forward the same feelings they have in childhood as they grow up. Your children should grow up with the feeling that they are important.
How to make children feel special and important? How to develop a sense of security and trust in children? How to strengthen the parent-child bond? Discuss here.