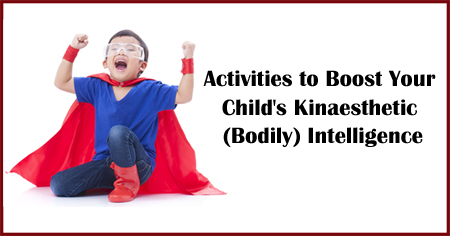 Bodily or kinaesthetic abilities in kids need to be strengthened and developed. Find out some activities to develop and strengthen your child's bodily or kinaesthetic intelligence.

Does your child possess bodily or kinaesthetic abilities? If yes, then you need to strengthen and develop those abilities to propel him or her in the right direction. When your child's kinaesthetic or bodily intelligence is developed right from an early age, then he or she can grow up to be a successful individual.
These are some great activities for those children who possess bodily or
kinaesthetic intelligence
:
Dancing

Dancing is a wonderful exercise and a great activity for kids who are kinaesthetic learners. Kinaesthetic learners learn best when they are moving. Dance provides these kids a chance to express themselves non-verbally through movement and gestures. You can induce emotions through dance and also release emotions through dance. It is a fun filled activity and a great stress buster as well. Dance strengthens the body and improves mind-body coordination.
Sports

Very often, children with kinaesthetic abilities excel and do very well in sports. Sports provide an outlet to release stored up energy in the body and relive stress. There are plenty of opportunities for kids to participate in competitive sports. Kinaesthetic learners can also do well in careers related to sports such as becoming a professional sports coach - e.g. basketball coach, tennis coach, etc. Many children with kinaesthetic intelligence enjoy active sports.
Baking and Cooking

Cooking not only interests girls, there are boys also who enjoy cooking. Cooking is a great
learning
experience for children. The best part about cooking is that the kids not only get to prepare the dishes, they also get to eat what they have made afterwards. Active toddlers and young children experience a lot of kinaesthetic stimulation with cooking. Making homemade pizzas and cookies together can be fun, stimulating and exciting for both moms and kids.
Building and Fixing Things

It brings parents great satisfaction, joy and pride to see their toddlers or young children building and fixing things. The kinaesthetic toddler or young child will have a great time touching and building blocks. Get your kids and all their friends together and go out camping or for a picnic. Have competitions with building blocks for the kids. You can also buy other
games
for your kids to help them build and fix things. There are games for building model cars and planes. Many kinaesthetic kids enjoy repairing stuff, so do not be surprised if you find your kid trying to repair his or her bicycle or computer.
Imagination and Drama

Games involving use of imagination and drama are nice for kinaesthetic learners. For examples, toys such as action figures and dolls are really good. With action figures or dolls, kids can create a scene of events and then enact it with small characters. Small girls like to play imaginary games with their dolls and pretend like the doll is a doctor, fairy, etc. These games can be played by toddlers, but once your child starts to grow up, you can also enrol him or her in drama
activities
in school. Kids with kinaesthetic intelligence enjoy make believe and drama.
Exploring the Beach

If your toddler or young kid is a kinaesthetic learner, then taking him or her to the beach is a great way to spend the day. You can go to the beach and play with the sand. Your child can collect sea shells from the sea shore. A good idea is getting the sea shells home and painting them in different colours. You can also carry a beach ball so that the kids can play catch on the beach. You and the kids can stand at a distance from each other - run, and have fun playing with the ball.
These are some interesting activities for toddlers or young kids who have kinaesthetic abilities. As children with kinaesthetic intelligence love movement, these activities are sure to interest them and provide them entertainment and enjoyment.
What is kinaesthetic intelligence? How to identify kinaesthetic intelligence in children? What are the ways to boost bodily or kinaesthetic intelligence in children? Discuss here.