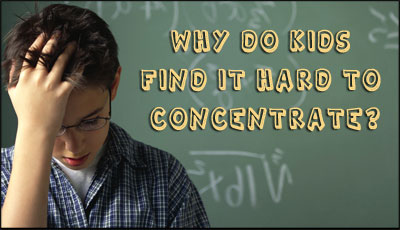 There are many things which are responsible for poor concentration in kids. Read on to find out why kids find it difficult to concentrate and what measures parents can take to help them.
The present generation kids find it really hard to focus or concentrate on anything for long. They cannot respond to their surroundings well. They think fast, act fast, and their activities also keep changing very fast. Most children are hyperactive. They find it very difficult to sit in one place and engage themselves in any one particular activity. They do not respond well in school as well as at home. Many factors contribute toward this lack of
concentration
in children. You as parents can identify these factors and help your child in making his life easier by developing his concentration skills.
Lack of Interest
For any kind of activity, motivation and interest is required. If a child does not like any particular task or activity, he might not show any interest at all in doing the same. As a result of which he will find it hard to concentrate or
focus
. Usually, children find interest in things which their parents do. If you as a parent like to paint, your child will develop his interest in painting. If a child sees his parent taking lot of interest in sports, he too will follow suit. So, you as a parent may show interest in things which you want your child to get involved.
Distractions
Technology has advanced a lot today and the world is moving at a very fast pace. Today's kids face lot of challenges even in their day to day activities. The greatest distractions are internet, television, phones, video games, iPods, highly advanced toys, gadgets, and a lot more. All of these are also easily available to them at their disposal.
Unhealthy Lifestyle
Junk food, improper diet, and inadequate sleep can make your child lethargic. Many children sleep very late in the night. They also do not have a
balanced diet
or full meal. Their diet should be rich in carbohydrates, protein, fat, and also vitamins and minerals for a healthy physical and mental growth and development. Today's kid eat lot of
junk
, they do not play much, and are happy with video games. This erratic lifestyle and lack of any physical activity lead to lack of concentration.
Attention Deficit Hyperactivity Disorder (ADHD)
ADHD is a kind of
behavioural problem in children
and quite common these days. Children with this problem are always hyperactive and they cannot pay attention to anything. They are always restless and talk a lot. They interrupt when others are talking. Such children need help immediately.
Personal Problems
Children need to be loved and should feel secure in their surroundings. Sometimes problems in the family may disturb them mentally. They need a happy environment, also friends to play with. Some children may face problems in school. They may not get along well with their peer group. They may have problems with their teacher too. In that case the child feels very left out and alone. He finds it hard to concentrate.Parents can play a very important role in helping kids to concentrate. Be sympathetic and kind towards your children. Create proper surroundings for them to feel happy and be more focused. Give them plenty of fruits, vegetables, nuts and other nutritious food. Follow a healthy lifestyle. Keep them away from distractions like phone, video games, or television. Provide them with activities that really interest them. Give them break during studies. Study room of your children must be quiet with no external disturbances. Make them go to bed early. Your kids should engage themselves in lot of physical activities. Play with them if required. Be their friend and talk to them and know their problem. Encourage them and provide them with a positive environment.
Why do some kids find it hard to concentrate? How to help kids to concentrate and focus on studies? Which activities are helpful for improving concentration of kids? Discuss here.