Makar Sankranti festival is dedicated to Sun God or Surya Dev and Fire God or Agni Dev. Read on to find out how these to Gods are worshipped in different regions of India for the prosperity and wellbeing of the family.

Makar Sankranti is one of the festivals that are celebrated throughout India with great fervour and joy. It is usually observed on 14th or 15th January every year. Although, this festival is observed on the same day it is know by different names in different regions. The way in which Puja is done on this occasion also varies from region to region. Listed below are the different ways in which
Makar Sankranti Puja
is done in different regions of India.
Makar Sankranti Puja in Different Regions
Here is how Makar Sankranti Puja is done in different regions of India. These different ways of doing Puja are actually the ways of worshipping Surya Dev or Sun God and Agni Dev or Fire God.
Maharashtra

In Maharashtra, women do
Makar Sankranti
Puja by worshipping a pair of two earthen pots which are grey and brown in colour as shown in the picture below. This kind of Puja is also known as
Sugad Pujan
.
It is a very simple way of doing Makar Sankranti Puja. In the grey coloured pot, things like small pieces of carrot, fresh and green pods of chick-pea, small pieces of sugarcane, Bore or Indian dates and pods of groundnuts are added. The tilak of haldi and kumkum are applied on all sides of the two pots. Then the smaller pot is placed over the bigger pot and things like flowers, essence sticks, Til or sesame laddus are offered. Diya is also lit in front of this arrangement and then prayers are said for the well being of the family. This Puja should be done early in the morning.
Karnataka
In Karantaka, Makar Sankranti Puja is done on the day of
Bhogi
which falls a day before Makar Sankranti. Food items like mixed vegetables,
Bhakri
of bajra seasoned with
Til
or sesame and Sweet polis made of groundnut and jaggery are offered to Surya Dev or Sun God and prayers are offered.
Punjab
Punjabis too celebrated this festival on the eve of Makar Sankranti as Lohri. Bonfire is lit and men, women and children offer puffed rice and a sweet called
Rewdi
to it and offer prayers to Fire God for the well being of children and other family members. Traditional Punjabi songs are played and everyone dance around the holy born fire.
Gujarat
In Gujarat people observe this festival by the name of Uttarayan. On this day they wake-up very early in the morning. After taking bath and observing the everyday Puja rituals they step-out of the house to seek the blessing of Surya Dev or Sun God. People make sure that they get the very first rays of sun on this day as they are considered to be sacred. After praying to sun God, they have the traditional sweets that are prepared using
Til
or Sesame and friends, relatives and neighbours gather together for kite-flying.
Assam

In Assam Makar Sankranti is observed as Bihu. Fire God or Agni Dev is worshipped on this occasion.
Meji
which is a hut made out of bamboo leaves and thatch inside which special food is prepared and served. The next morning this hut is burnt and the sacred ashes are scattered over the farm fields in order to improve the fertility of the land.
Tamil Nadu

In Tamil Nadu the festival of Makar Sankranti is observed for four days. It is known as
Pongal
in this region. On the first day which is known as Bhogi Pongal, prayers are offered to Lord Indra to bless the region with adequate amount of rains so that good quality and quantity of crops are harvested.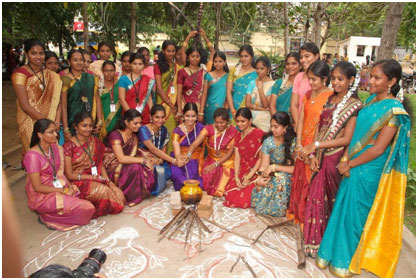 On the second day a sweet dish is prepared using rice, jaggery and milk which cooked in earthen pot which is then offered to Surya Dev or Sun God. This day is known as Surya-Pongal. On the third day cows are worshipped by offering beautiful garlands and sweets and this day is known as Mattu-Pongal. The last day is known as Kannum-Pongal and Puja is done using a turmeric leaf and sweet rice. While doing Puja, rice is placed on the leaf and prayers are offered and Aarti is performed so that the houses of their brothers prosper. Rangoli or Kolum is drawn in front of the house.
Makar Sankranti Puja is done in the above mentioned interesting ways throughout India. Do the Puja peacefully with full heart to seek the blessings truly from the Gods for whom these Pujas are performed. Do not forget to relish on the special sweets that are prepared for this occasion after Puja is done.
Why is Sun God or Surya Dev and Fire God or Agni Dev worshiped on the day of Makar Sankranti? What is the significance of preparing Til or Sesame sweets on this occasion? Why is Sankranti known as the harvest festival? Discuss here.