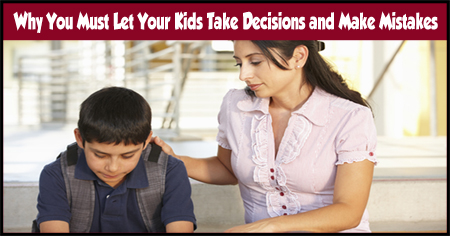 It is alright if sometimes kids take small decisions and make mistakes. Allowing kids to take decision will improve their decision making ability. At the same time if they make mistakes, it will be a good learning for them and next time they will perform better. Here is why you must allow your kids to take decisions and make mistakes.

Sometimes it becomes necessary to let your kids take decisions themselves. Because of lack of experiences from life it is natural that they will make mistakes. Parents are there to guide kids but sometimes to
build up self confidence
in kids it is necessary that parents allow kids to face the adversities and hardships that life offers at some point of time.
It does not mean that parents should allow kids to make mistakes purposely. They should use their judgement to know when it is right let children take decisions so that it their decision making skill is improved. Here are some of the ways discussed how to let your kids take risks and make mistakes but safely.

Rely on Your Kids
To let your kids take his own decisions the foremost important thing is that you have to rely on your kid. You should know in your heart that your kid is capable of doing things perfectly and take decisions skilfully. Only if you can rely on your kids then only you can dare to entrust him with the responsibility of taking the crucial decisions in life.
Involvement of Kids
When you are discussing about a serious issue at home, involve your kids in the discussion. Let him give his own opinions into the matter. May be his
problem solving techniques
may click. Or when he is about to take decisions on his own and is facing problems, give him a somewhat similar situation and solve a similar problem so that he can get an idea of how to solve his own problems himself.
Let Your Kids Choose
When you are facing problems in selecting among a lot of alternatives, give this responsibility to your kids sometimes. Give them the same set of alternatives and let them choose from the set of alternatives. This is a training which you can impart to your kids in order to
help them become self dependent
and they learn to rely on themselves.
Becoming self dependent and believing in one's self is very important in the future endeavours of a kid. This will help him take crucial decisions in the years to come. He can rely upon himself if faced with some adversities of life. He will not have to depend on anyone. Even if he fails, that failure will be his learning step to grow. Failures are also necessary in life to enjoy the happiness of success.
Self Defence
For your kid's own safety you should let your kids learn some self defence steps to save himself if faced with any kinds of danger. Self defence steps should be learnt by all.
Give Him the Charge of an Important Task at Home
In order to urge him in taking up important ventures make it a practice by giving him
responsibilities
which are very crucial at home. See how well he performs. Guide him if he does any mistakes. This way he will learn to take up responsibilities himself and will not be scared of failures. He will learn to accept failures as a part of learning. He will accept failures as the stepping stone to perform much better in future. This will save him from getting frustrated of failures as he knows that failure is the fact behind every success story. When your kid starts shouldering responsibilities on his own, you will be much relieved from the daily headaches and relax a little.
So you should allow your kids to take decisions on their own sometimes. It is very necessary for better understanding of your kids. It will boost up the self confidence in your kids. Their decision making ability will become strong. They will be able to take crucial decisions skilfully. At first they will make mistakes but they will soon learn to rectify their mistakes themselves and will become perfect in their endeavours.

Why is it necessary to let children take decisions sometimes? What are the benefits of allowing children to take decisions and making mistakes? How to teach kids to take right decisions? Discuss here.