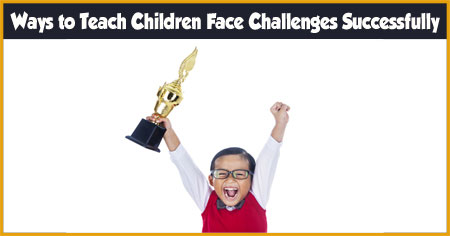 Right guidance of parents and encouragement is essential to help children face challenges successfully. Parents can play an important role to prepare children to face age appropriate challenges. This type of motivation can help to prepare kids to take life as it comes and overcome every challenge. Find out how to help children face challenges successfully.
Making children physically fit and strong is not enough. Making them mentally strong is also equally important. More specifically, making them strong enough so that they can thrive alone in this world is very important.
Those kids who face challenges become more
independent
and
self reliant
. They are not scared to face any adverse situations that come their way whatsoever. At the same time they need support and right guidance from their parents. Parents also need to make sure that they monitor their children so that do not take any risks which are not appropriate for their age. Here are some tips given how to help children face challenges successfully. Have a look at this.
Help Your Kids Find Happiness in Facing Challenges
Make your kids face challenges with happiness. Tell them that every challenge is an opportunity to learn. By doing this they will not be scared in facing hard situations. They will take problems as easier as they come.

Do Not Be Overprotective
Let your kids face hardships that life offers them. That will be a learning process and this experience will help them in the future. Do not be overprotective. If they face hardships they let them face it with valour. This will make them mentally strong and powerful.
Do Not Rebuke if They Fail
Make your kids understand that
failure
is the stepping stone to success. It is the failure that teaches man to succeed. Never rebuke your child in case they fail in some endeavours. If you scold them it will make matters worse. Never sprinkle salt in their wounds. Instead be supportive so that they are not afraid of failures. If they are scared of failures they will stop accepting challenges.
Delegate Responsibilities
Even if you doubt of your child's calibre of performing certain tasks,
give them responsibilities to bear
. It will make them more careful in their endeavours. They will try to please you by winning over every situation. And once they start winning, their self confidence will boost up. They will want to take up responsibilities themselves and will try to succeed.
Avoid Praising Kids Excessively
Stop praising your kid every now and then. Praising sometimes for something extraordinary is commendable. If you start
praising your kids
for every little thing that they do, and if you think you are growing their interest by doing this, then you are wrong. Praising repeatedly will have an adverse effect on the kids. They will start thinking that getting accolades and praises are not at all tough. Whatever they will do will earn them accolades. This will make them reluctant of taking up tough endeavours and they will be afraid of failures. They will stop taking up hardships in life fearing that they may fail. This will destroy their self confidence.
Accept Catastrophe
Crisis in life is normal. So it is better to accept it as it comes. Do not make a fuss about it. Try to keep your cool and help your children to face the crisis bravely. Make them understand that disturbances in life are never permanent. It will slowly get away. Teach them to be steady and face the situation with courage.

Help Your Kids to Take Critical Actions
If you find your kids trying hard to cope with the hard situations, give them your helping hand. Help them in taking those vital decisions in life that will help them in his future. Any wrong decision may prove to be fatal for your children. Being a parent you will understand them better. So try to give them the best solutions, so that they excel in life and there is no need to repent in future.
There comes important phases in life which are to be dealt very carefully and cautiously. Any wrong step can take you far away from the
success
point. Guide your kids properly so as to keep them on the right track. Make sure that they do not become overconfident and do not take risks which are not appropriate for their age or which can harm them in any way.
How to prepare children to face challenges? What are the ways to teach children to take right decisions? How to teach children to overcome each and every challenge of life? Discuss here.