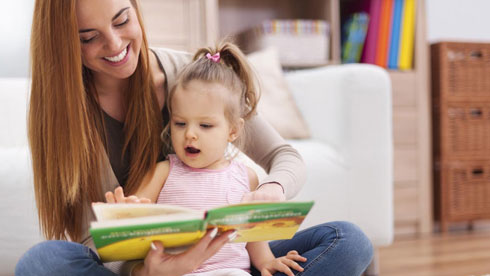 Children love to hear stories especially from their parents and their grandparents. It is very easy to entertain them through these stories and at the same time teach them important values of life. Stories of Pachantantra, Jataka Tales, Aesop's Fables and Fairy tales are all time favourite stories of children. Given here are the Top 20 stories that we must tell our children.
1) The story of Akbar and Birbal
At some point, ruler Akbar posed an inquiry in his court that left everybody in the court bewildered. As they all attempted to make sense of the appropriate response, Birbal strolled in and asked what the issue was. They rehashed the inquiry to him. The inquiry was, "What number of crows are there in the city?" Birbal promptly grinned and went up to Akbar. He declared the appropriate response; he said there were 21 thousand, 500 and 23 crows in the city. When asked how he knew the appropriate response, Birbal answered, "Request that your men tally the quantity of crows. On the off chance that there are more, then the family members of the crows must be visiting them from close by urban communities. On the off chance that there are less, then the crows from our city must be visiting their family members who live away from the city." Pleased with the appropriate response, Akbar gave Birbal a ruby and pearl chain. This story teaches that being able to explain your answer is equally important as having an answer.
2) Patty, the milkmaid.
Patty, a milkmaid drained her cow and had two full buckets of new, rich milk. She put the two buckets of milk on a stick and set off to the market to sell the milk. As she made strides towards the market, her musings made strides towards riches. On her way, she continued pondering the cash she would make from selling the milk. At that point she considered what she would do with that cash. She was conversing with herself and stated, "When I get the cash, I'll purchase a chicken. The chicken will lay eggs and I will get more chickens. They will all lay eggs, and I will sell them for more cash. At that point, I'll purchase the house on the slope and everybody will be jealous of me." She was cheerful that soon she would be rich. With these upbeat contemplations, she walked ahead. Yet, unexpectedly, she stumbled and fell. Both the buckets of the milk fell and everything she could ever want were broken. The milk spilt onto the ground, and everything Patty could do was cry. "No more dream," she cried absurdly! This story teaches us to not count your chickens before they are hatched.
3) Different situations, different reactions
This is a story that clarifies how misfortune is met contrastingly by various individuals. There was a young lady named Asha who lived with her mom and father in a town. At some point, her dad appointed her a basic assignment. He took three vessels loaded up with bubbling water. He set an egg in one vessel, a potato in the subsequent vessel, and some tea leaves in the third vessel. He asked Asha to watch out for the vessels for around ten to fifteen minutes while the three fixings in three separate vessels bubbled. After the said time, he asked Asha to strip the potato and egg, and strain the tea leaves. Asha was left baffled – she comprehended her dad was attempting to tell her something, however she didn't have a clue what it was. Her dad clarified, "Every one of the three things were placed in similar conditions. Perceive how they've reacted in an unexpected way." He said that the potato turned delicate, the egg turned hard, and the tea leaves changed the shading and taste of the water. He further stated, "We are largely similar to one of these things. At the point when difficulty calls, we react precisely the manner in which they do. Presently, would you say you are a potato, an egg, or tea leaves?" This story teaches us that we can choose how to react to a difficult situation.
4) The proud rose
Sometime in the distant past, there was a lovely rose plant in a nursery. One rose on the plant was glad for its magnificence and beauty. Notwithstanding, it was frustrated that it was becoming close to an appalling desert flora. Consistently, the rose would affront the prickly plant about its looks, however the desert flora remained calm. The various plants in the nursery attempted to prevent the rose from harassing the desert plant, yet the rose was too influenced by its own magnificence to tune in to anybody. One summer, a well in the nursery evaporated and there was no water for the plants. The rose gradually started to shrivel. The rose saw a sparrow dunk its snout into the desert plant for some water. The rose at that point felt embarrassed for having ridiculed the desert plant this time. But since it needed water, it went to inquire as to whether it could have some water. The benevolent prickly plant concurred, and the two of them overcame summer as companions. This story teaches us to never judge somebody by their looks.
5) The pencil teaches us to do better
A kid named Raj was disturbed on the grounds that he had done inadequately in his English test. He was sitting in his room when his grandma came and helped him. His grandma sat close to him and gave him a pencil. Raj took a gander at his grandmother astounded, and said he didn't merit a pencil after his performance in the test. His grandmother clarified, "You can take in numerous things from this pencil since it is much the same as you. It encounters an agonizing sharpening, only the manner in which you have encountered the torment of not excelling on your test. Nonetheless, it will assist you with being a superior student. Similarly as all the decency that originates from the pencil is from inside itself, you will likewise discover the solidarity to defeat this obstacle. Lastly, similarly as this pencil will positively influence any surface, you also will leave your imprint on anything you decide to." Raj quickly supported and guaranteed himself that he would improve. This story teaches us that we all have potential to do better and grow.
6) Why Is the Camel's Neck Crooked?
This story of Akbar and Birbal not only shows the intelligence of Birbal but also teaches how meticulously we can remind one about a promise that one has made but forgot to keep. One day when Akbar and Birbal were walking along the banks of River Yamuna, Akbar saw a camel and asked why its neck is crooked. Birbal took no time to answer that the camel got punishment for not keeping its promise which reminded Akbar that he also forgot to keep his promise made to Birbal.
7) Unity Is Strength
No other story could have taught the importance of unity than that of the story of Doves and mouse in Panchatantra. When a flock of doves along with their king got caught in a net then flew together to a mouse that helped them by cutting the net and freeing them.
8) The Lion And The Rabbit
The story of lion and rabbit from Panchatantra teaches our kids that no one is small. A small rabbit had punished the lion with its intelligence. The lion mistook its own reflection in the water to be another lion and plunged into the well and got killed.
9) The Musical Donkey
The story of musical donkey and the jackal teaches our kids how they can land up into trouble if they do not listen to good advices. The donkey landed into trouble when it started singing while it was eating cucumbers from a garden.
10) The Golden Goose
This Jataka Tale teaches lots of good things like friendship, loyalty and kindness. It also teaches about the duties of a great and noble king.
11) The Noble Stag
This story of noble stag from the Jataka Tales depicts how a noble stag could change King Brahmadutta into a generous and just king. The king had even passed the test that was taken by the King of Heaven Sakka.
12) Killing of Kansha by Krishna
Children like to listen to mythological stories. The returning back of Lord Krishna to Mathura and then killing his maternal uncle Kansha is all time favourite for the children. This story teaches how good always wins over the evil.
13) The Crows and the Black Snake
This story from Panchatantra is about a mother crow, a father crow and a black snake. With the suggestion of a wise fox, the crows were able to teach a lesson to the black snake that started living in the same tree the crows were living. The snake tried to harm the baby crows so parents wanted to teach him a memorable lesson.
14) The Wolf and The Crane
His story teaches us not to expect any reward when we are serving a wicked person. A crane helped a wicked wolf by taking out the bone that got stuck in the neck of the wolf but the wolf refused to pay him the reward that he promised.
15) Prince Rama Finds a Wife
This mythological story of Prince Rama's marriage to Princess Sita is a favourite one for the kids. They like to listen to how a grand SwayamvarSabha was arranged for Sita's marriage. Out of all the prices that were there, only Prince Rama could put string in the bow and broke it into two pieces and got married to Sita.
16) The Greedy Lion
This story teaches us to be satisfied with what we have and not let greediness force us to take stupid decisions that we might regret later. The greedy lion let go of one hare because of the greed for a bigger reward.
17) Two Friends and the Bear
This is a story of two friends and how one of them betrays the other during a crisis. This story teaches us, "a friend in need is a friend indeed". We must learn the importance of picking the right friends who genuinely care about us.
18) The Lion and The Poor Slave
This story is about a slave who ran away from his cruel master. He helped a lion who was injured and the lion, after a few days saved the slave's life in return. This story teaches us about good "Karma". If we do something nice for someone, we will be rewarded for our kindness.
19) The Foolish Donkey
This is a story of a donkey who played a trick on his master. His master figured the trick out and instead started playing a trick back on the donkey. The donkey learned his lesson and started working truthfully. This story teaches us that hard work is the only key to success and that luck will not always be in our favour.
20) Three Sons and a Bundle of Sticks
This story of a father and his three sons, teaches us that when we try and solve problems in life, it's easier when we work as a team. A team is stronger than a single person. These stories teach important values and morals of life to your children. They must hear these stories from you, so they can grow up to be kind, caring and helpful.
Why is it necessary to tell stories to children? Which are some of the popular stories for children? How to instil a reading habit in your kids? Discuss here: