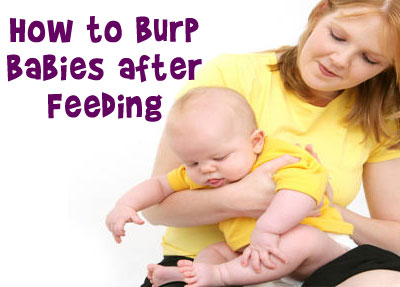 Parents often understand the reasons of baby's crying. However, sometimes one can not find the reason of crying. The reason could be due to swallowed air, which can be corrected by burping the baby. Know how to burp the baby.

Check her diet - Is she hungry or allergic to certain foods
Most of the time that the baby is crying, it is because of hunger. Some parents begin to recognize the cry of hunger at a very early age. It has been observed that the feeling of a full stomach gives a baby the most comfort. - not the act of feeding, swallowing or being held. Another possible explanation for your baby's discomfort may lie in her diet. Occasionally, allergy or sensitivity to something in the formula or breast milk may lead to crying, but this is usually accompanied by other symptoms.

Burp the baby
Babies often feel uncomfortable because they have swallowed air. Parents can take a few precautionary measures to prevent this happening. Babies will swallow less air if you keep them upright as much as possible during feeding and burping. The right-size teat hole on a bottle will also reduce air intake. Burp the baby regularly during feeds in order to expel swallowed air. Applying light pressure to the baby's abdomen (by laying her across your lap, tummy down, or upright against your shoulder) while patting or rubbing her back has also been known to be effective.