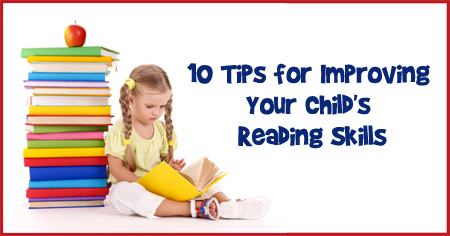 Helping children develop reading skills at an early age can prove very helpful to them in their prospective academic and professional life. Find 10 tips for improving your child's reading skills right here.
Teaching your child to read for the first time can be an immensely fulfilling and an educational process, both for you and your child. Whether you want to give your child a head start or gift her new hobby to pass time, you can begin teaching your child to read at home.Here is a guide to help you teach your child to read, in and easy and efficient manner.
Read Aloud to Your Child
Teaching your child to read is a process that truly begins at infancy. But as your child develops, you can get her excited about books by
reading aloud
to her on regular basis. Consider books at levels that she would be able to understand easily.
Increase Reading Level with Time
If you are starting early, you can read 3-4 small stories a day. As your child reaches higher school level, begin reading books that may be more of their reading level and engage them in reading. Not only will this create a special bonding time for the parent and the child but also instill love for reading and literature in the child.
Allow Two-Way Communication by Asking Questions
Encourage your child to learn to comprehend before she learns to read. While you are telling stories to your child, you must encourage a two-way communication by asking questions that are related to the story and its characters. In this way you can boost critical thinking skills in your child by the age of 4 or 5 years. It will also help your child to open-up and express her thoughts.
Be a Role Model
By reading yourself, you show your child that it is an interesting activity and can be taken up as a potential hobby. Start by spending at least half an hour reading when your child is watching, so that they observe you enjoying reading and become curious about reading themselves. Even if you do not enjoy reading as a hobby, you can read a magazine or a cookbook. Additionally, you can indulge your child in your reading time by telling her what you are reading and explaining why it interests you.
Store Books in Places Easily Accessible to Your Child
Your child may enjoy reading one day but forget about it the other, if the books are not easily accessible. Keep books low near the ground or where she usually sits so that your child begins to read more often and counts reading as a playful activity. Include small story books that are easy to store and handle for both you and the child.
Teach Your Child to Identify Letters in Natural Settings
By teaching your child to identify letters and alphabets in a natural surrounding you can instill in her a habit of enjoying
reading
. Technically known as "Environment Print", this phenomenon involves teaching the child to acknowledge prints and alphabets in natural settings. This in turn promotes your child to read more often.
Use Various Domains of Development
If your child has begun reading, it is time to incorporate multiple areas of development to provide them a hands-on learning experience that will be more useful. Once your child begins noticing letters in natural settings, you can start implementing various activities to include as many senses as possible such as sounds and scents. To incorporate in them early
reading skills
, you can use techniques like alphabet crafts and reading games that can promote their motor as well as craft skills.
Begin Making Word-Sound Associations
After you have included other senses with reading, you can start getting into the sound specifics. You can begin by helping your child recognize that a certain word on the page is directly associated with a particular sound. If you read aloud, point the word on the page and define how you say it. This will not only help your child grasp the idea of word-sound but also the length and sound of the pronounced word.
Classify Genres
As your child grows and starts recognizing the difference between real and make believe, you can start sorting her
books
according to different genre. For instance, you can differentiate her books in basically 5 categories:
Fantasy
Non-fiction
Alphabet books
Song books
Realistic fiction
Teach Your Child Rhymes
By teaching your child
rhymes
, you automatically teach them letter recognition and encourage phonemic awareness. Regularly reading nursery rhymes can help your child recognize patterns of sounds and words used in combination, also increasing their vocabulary.Always remember that the ultimate goal should be to make reading an enjoyable activity for your child. With the right tactics and tips, your child can start reading in no time.
What are the benefits of inculcating the habit of reading in children? How to help children develop love for reading? What kind of books should be first introduced to children? Discuss here.