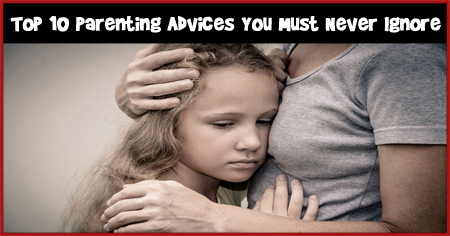 Following certain parenting rules and guidelines can help you to walk the fine line of parenting easily. Let us take a look at the parenting advices which you must never ignore as such advices can help you to become a better parent.

Parenting is one of the most enjoyable and challenging phases of your life and you really have to give your 100% to ensure that you play your role as a parent as well as you can. Here are 10 top tips that will make your parenting life easier.

Connect with Your Kids
Set some time aside everyday just to be with your children. Even if it is 15 minutes per day this time will help you focus all your attention on your kids and help you forge a special bond with them. Shut off your phone, switch off the laptop and indulge in some
kids and me time
.
Manage Your Emotions

Learn to control your own emotions and manage your stress. A great tip for not letting your negative emotions affect your kids is to calm yourself before interacting with your children. Take deep breaths, practice yoga, listen to calming music; there are so many ways of becoming a calmer person.
Inspect the Cause Not the Reaction

Most often parents react seeing their kids shouting, crying or acting difficult. However, it is the underlying reason for kid's distress that should be attended to in order for the problem to be resolved. As a parent you need to really understand what's going on in your kid's life in order to make things easier
Give Your Kids Space

Give your children enough space in order to blossom into mature individuals with a personality of their own. Set aside expectations that your kid will fulfil all that you did not do in your life or achieve your goals. Life will become so much simpler and easier.
Stop Catering to Every Wish
Loving your child is about caring for them and fulfilling their
needs
. Loving them is not about catering to every wish and turning them into selfish unreasonable people. Understand the fact that you do not have to wreck your finances and mental peace catering to every demand.
Do Things Together

Even if it something as simple as cleaning the table or watering the plants, learn to share activities with your kids. Your children will love being given some
responsibility
occasionally and will learn new skills from you. You will also get some help in household chores.
Create a Friendly Bond

Instead of putting yourself on a pedestal and commanding your kid learn to become their friend. A friendly parent has happier well balanced kids and has a much easier life. When you place yourself on your kids level
communication
becomes so much easier.
Pray Together

Belief in God or a higher power will strengthen your family life and make all of you happier and mentally stronger. Instilling belief in God is one of the best things that you could do for your kids. Even saying a simple prayer together at bedtime or going to church, temple or your preferred religious centre together will bring a sense of calm and peace.
Tell Your Kids that You Love Them

Let your kids know how much you love and care for them. It gives children a warm rush of pleasure when they feel appreciated and loved by their parents. Tell your children verbally how much you care for them and see the pure joy on their faces. Your life will become simpler when your kids reciprocate your love with obedience and affection.
Stay Happy

Much of your performance as a parent depends upon how happy you are as a person. Be happy and content as a human being and being a
good parent
will become so much easier.
If you avoid ignoring these simple advices on becoming a better parent, your life is going to be so much easier and smoother.
How to make parenting easier? What are the ways to become a better parent? How can one improve his or her parenting skills? Discuss here.