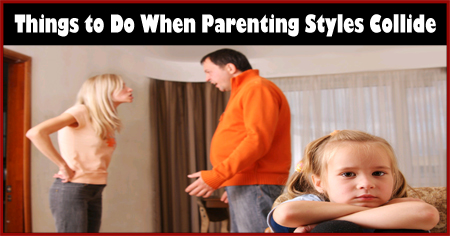 Sometimes the opinions of parents differ on certain parenting issues. During such situations parents should keep their cool and come-up with the conclusion which is in the interest of child. Have a quick look at the things to do when parenting styles collide.

It is not necessary that couples will share the same vision, cultural background and ideology and this obviously means that there are going to be considerable differences in the parenting styles of mom and dad. Since
parenting
is an issue both parents are extremely sensitive about, it is extremely important for both parents to arrive at a mutual conclusion otherwise the differences may escalate into
fights
.
Communication is the Key
When
parenting styles
of moms and dads do not match its important to maintain good communication with each other. Talk a lot about future scenarios so that you know what to expect in future. This means talking about children before you actually have one or discussing child education before your child has joined nursery. If you cannot find a suitable conclusion to the debate even after listening to each other with an open mind then return to the discussion after a while. Whatever happens, do not freeze the issue or end communication as this will only worsen the situation.
Look for a Solution that Suits Both
Good parenting involves a generous dose of compromise. If both partners have strong and rigid views then it is advisable for both to step down from their stand and work towards a mutual middle ground. Often this will warrant a good degree of compromise but then parenting is all about setting a good example and not about winning arguments. If there is no middle ground to be found then defer to the one who has the strongest opinion on the subject in question.
Collect Information from a Variety of Sources
If you are a new parent then all you have on the complicated subject of parenting is hypothesis. A good way to resolve differences regarding parenting styles of partners is to actively seek out new information. Make sure that you collect information from a wide variety of sources including experienced parents, doctors, child educators and the Internet about issues on which you and your
partner disagree
about often a new angle or fresh perspective will help you arrive at a more satisfactory opinion.
Set Specific Times for Discussion
You need to set a definite time for discussion when you are ready to sit and listen to your partner with an open mind. Discussions should never happen in front of the kid and never ever should you argue in front of your child. It is okay to disagree as a couple on parenting issues but what your child must see is a unified front comprising of two partners who agree and complement each other. Treat the discussion time as important and private.
Convert Your Differences into Strengths

There are two ways to treat differences in parenting styles. You can either opt to take the differences and make them into issues for argument or you can take the differing opinions of each and work out a dynamic combination. For example, if one partner is a strict disciplinarian and the other is an emotional nurturer then this can be a great combination for the kid if both work in harmony. The child can receive
discipline
from one partner while the other parent can help in soothing away the issues that the child is plagued with.
When it comes to parenting there are so many conflicting sources of information and preconceived expectations on both partners that it is easy to feel confused and overwhelmed. However, no two sets of parents are equal and each have their own dynamic equation, strengths and weaknesses. It is important for both parents to understand each other and their areas of dissent before working on them in a positive way.
What to do when parents have different opinions on parenting issues? How to resolve the differences arising due to differing views on parenting? How do children get affected when parenting styles collide? Discuss here.