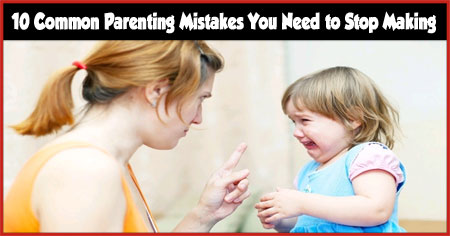 Parents make certain mistakes unknowingly which can hamper the development of children. Let us take a look at the 10 common parenting mistakes parents should stop making.

If you are a parent then these common parenting mistakes should definitely be on your "avoid" list.
1. Child Worshipping
Children are made to be loved but not to be worshipped. Some parents forget this and tend to treat their kids as the centre of the universe and pretend that they are capable of doing no wrong. Often it is these parents who create self-centred morally weak kids who have inflated egos. As a parent you need to stop worshipping your kids and loving them responsibly.
2. Expecting Perfection
It is sometimes difficult for parents to be logical as far as their kids are concerned. Some parents expect their kids to shine like a star at every function, ace every test and be perfect in all respects. Such over expectations often cripple the child with tremendous pressure and ultimately the child loses confidence in his or her abilities.
3. Living Vicariously
Many parents try to live life vicariously through their kids. This means they try forcing their own unfulfilled goals, wishes, hobbies and ambitions on their kids and forget that their children may have interests of their own. As a parent you need to remember that it is your kid's life not yours and also that their happiness may lie in different directions.
4. Trying to be Friends all the Time
Friends are people with whom one hangs out bunking classes and sharing the first drink. Parents are people who warn kids about the danger of unsafe sex and unregulated drinking. There is a lot of difference between the two groups and till the time this difference is maintained parents can continue to be effective parents. But it is when parents commit the mistake of trying to be friends all the time that kids get wayward.
5. Needless Comparisons
Many parents end up pushing their kids to outbid their neighbour's, friend's or relative's kids in all activities all the time. When test results are announced or some extracurricular activity is discussed many parents are heard saying "so and so is so great in football why can't you be more like him". The poor child is compared to various random kids and is expected to be better than all of them.
Comparing kids
unnecessarily to others is one of the biggest
parenting mistakes
.
6. Overindulgence
Overindulgence turns perfect innocent kids into selfish brats. A parent who gives in to every whim and each fancy of their kids basically teaches kids to be selfish and inconsiderate. You need to recognize this trait in your
parenting style
and nip it in the bud if you do spot it.
7. Ignoring Personal Preferences
Most parents secretly hope to father or mother kids who are miniature replicas of them. Basically they want kids to share their preferences and dreams but get very upset when their kids turn out be entirely different individuals. As a parent learning to understand that kids do have individual likes and dislikes will help you prevent a big negative mistake.
8. Not Following up Words with Actions
If you are preaching honesty to your kids and then lying to your boss in front of your children then is rest assured that the honesty message will never be absorbed. One big mistake in
parenting
is not following up words with action.
9. Robbing Kids of Childhood
Children need time to make friends, play in the sun and ride bicycles and build sandcastles. Do not cram up their schedule with so many activities that they are unable to enjoy their precious childhood years. Robbing kids of their childhood is a big parenting mistake.
10. Not Giving Enough Time
Being too busy to be around your kids is the
worst parenting
mistake. Not only does the lack of time and personal attention hurt your kids it also makes you miss out one of the best experiences in life.
Now that you have identifies the top 10 parenting mistakes make sure to steer clear from them
Which are the common parenting mistakes? What are the effects of parenting mistakes on the growth and development of children? How to avoid parenting mistakes? Discuss here.