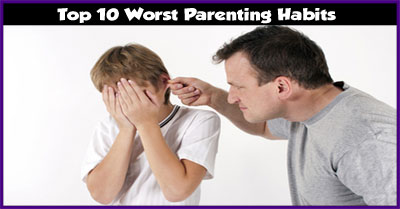 Certain parenting habits can spoil the behaviour of kids as well as create a bad impact on growth and development of kids. Learn about the top 10 worst parenting habits and quit them right away.

Parenting is not just a job – it is a lifelong responsibility. You tend to fall into a habitual behaviour when you are caught up with raising kids for at least two decades – few of them, unfortunately, are counterproductive and you need to get rid of those bad habits. Here, go through the list of 10
worst parenting habits
.

1. Yelling and Hitting
Do not
yell
, do not hit – that may control the situation in that moment, but it never has a long-lasting effect. Try to control your emotions, take deep breaths and relax, focus on the problem instead of focusing on your kids, take a break, and work it out with your kids when you are calm.

2. Negotiating with Kids
Kids are very intelligent in negotiating with their parents for what they want from an early age – they may not be able to communicate with complete sentences but they can trap you in their actions. Be firm if you have decided "no" for a certain thing, otherwise your kids would learn how to melt you.
3. Comparing with Other Kids
Comparing your own children with neighbours' kids or other schoolmates or any other kid is a very bad habit. This shakes their
confidence
and demotivates them - it causes depression, mental anguish, and low self-esteem; please avoid comparing and criticizing.

4. Being a Servant
You are a parent – it does not mean you are a servant. You do not have to do everything for your kids. Teach your kids to do household chores by asking them to help you so that they become responsible. This will make them independent and confident.

5. Bribing Your Kids
This is another lame habit parents tend to do to get their things done. Never bribe kids. Communicate with them and make them understand their duties. If you bribe, they will not understand the significance of the task you are asking them to do.

6. Not Giving an Ear
Do not be judgmental when your kids share their problems – listen to them. Listening is an effective way to help your kids work through making decisions and solving problems. Hear your children's thoughts on how to solve an issue or if they have any issue at all.
7. Not Setting Rules or Limits
Rules and limits are not negatives, but they are
behaviour
guidelines and your expectations from your kids that promote healthy and disciplined life. Limits also teach children to be responsible for their actions. If you do not set limits earlier, do not expect your kids to understand by their own what you want from them.

8. Failing to Be Flexible
As kids grow up, they need more space, they want to make their own decisions, and a physical and psychological separation occurs between you and your kids, which is natural. If you do not accept that and be flexible by stretching the rules, it can create big problem.

9. Not Following the Limits
If you have set limits, that is meant for you too. You cannot ask your kids to eat greens while you yourself are binging on French fries. You should
motivate your children
by yourself eating the greens, so that they follow you. Actions are more effective than words.

10. Not Setting the Consequences
When you set rules or limits for your household, you should also set the consequences. Allow your kids to know what will happen if they do not follow the rules and stick to the consequences. Otherwise, your kids will not take you seriously.
Parenting is a tough business, undoubtedly. It does not come with a handbook. It is an on-the-job training with no guidelines, just a lot of rules that are unwritten. It takes a lot of effort to look at your own discipline strategies before you your kids to be disciplined – but the results are good and long-term.
Which parenting habits can spoil the behaviour of kids? Which parenting habits can create bad impact on the growth and development of kids? How to break bad parenting habits? Discuss here.