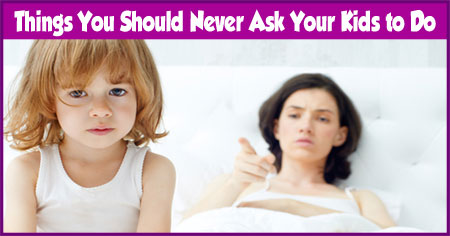 Parents unknowingly do ask their kids to do some most damaging and obviously wrong things. Often it is because a situation demands it or at that point of time they feel that it may protect kids from some miseries. Read on to learn about things we should never ask our kids to do.

No matter what parents say to their kids or ask them to do, they would never like to do any kind of harm to their kids. However, parents, though unknowingly, do ask their kids some very harmful and negative things to do. These not only make them confused and take them to wrong track of life, but may also lead them to go against law and society.
6 Things You Should Never Ask Your Kids to Do
Have a quick look at the things you should never ask your kids to do.
1. Lie On Your Behalf
No matter what the situation is, you should never ask your child to lie on your behalf. For example, even if you are at home you ask your kid to say to the guest that you are not there or ask her to lie on phone. No matter what age your child is, this is definitely going to confuse her. On one hand you ask her to be
honest
and teach her, honesty is the best policy and on the other hand you ask her to tell lies. Your child will not be able to decide what is wrong and most probably take the easier way out in future.
2. Ask Children to Take a Day or More Off From School
Some parents come back from family vacation after the school has re-opened. They even pay the fine, if any. However, this is definitely not helping your child get the right lesson of life. Once she grows older she will see that it is fine to be late or take a day or two off. This will lead to escaping from taking responsibilities in life and she will never be a disciplined and organized person.
3. To Be Partial
Sometimes parents get partial and favour one child over another. Well, this is going to teach your child a completely wrong lesson. She will think that being partial to someone or taking side of someone she loves even if that person has done something wrong is quite normal and there is nothing wrong in that. This will damage her decision making or judging qualities and she will not be able to take right decisions after growing up especially in difficult situations.
4. To Hit or Fight
When children suffer from
bullying
or any other problem in school, parents encourage them to fight or hit back. If you do so you should stop doing this immediately. This is making your child opt for violence and this is going to happen in future also. Choosing violence often leads to dangerous situations. Instead, ask your child to take action while abiding by the rule and complain about her classmate's actions to the class teacher. Following the right procedure will help your child find the suitable solution to any problem in life as well.
5. To Get Homework Done From Friends or Siblings
As a parent you must always ask your children to complete their homework on their own. However, you must always assist them if they are facing any difficulty. If your child does not listen to you make him or her understand calmly the importance of studies. Many parents complete their kid's homework or they ask them to get it done from their friends or siblings. It is okay that their intention behind this is to save the child from the consequences of not doing homework; this is going to make them an escapist and lower their self-esteem and
confidence
.
6. To Deal With Adult Issues
Even though there is lot of talking about being open to your children and about sex education for your children, do not ask your child to deal with adult issues. Even if you think your child is old enough to understand things, you should explain things that are going to keep her safe and try to encourage her and
boost her self-esteem
. Make her strong and capable of handling adverse situations. However, do not forget to respond to her phone call immediately no matter what the time or situation is.
Parenting is a tough job and we have to have patience and
self-control
on various matters especially when our children are around. If you insist on having a positive environment at home, it is important that you do not hide the negative stories from your children. It is good to tell your children negative stories about yourself or family because it shows that no matter whether times are good or bad families stick together and succeed and your children should know that.
Engage your children in family dinners or get together. This will help them get tied deep and strong in social relationships. Encourage your child to have friendship with all around and help her become a confident and self-dependant individual. Try to become a role model for your child to follow.
How do kids develop wrong values? How to make sure that kids do not imbibe wrong values? What are the ways to inculcate good manners and values in kids? Discuss here.