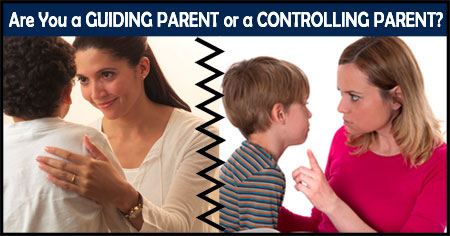 Find out why is it important to guide children than controlling them. Read about how guiding and controlling affects the development of children.

Children are often wilful and disobedient and most of the time they have no idea of what is good for them. Wilful disobedience or blatant flouting of rules may often drive parents into thinking that there is no option left but to try and control kids. However controlling as a
behaviour
pattern may yield temporary results but leave long term negative repercussions. Psychiatrists often cite guiding as a better alternative for making children follow a specific code of life. If you feel unsure about the difference between controlling and guiding and their respective advantages and disadvantages then this guide is sure to help you.
Dictating vs. Discussing
The difference between controlling and guiding can be well demonstrated by the behaviour pattern of dictation vs. discussion. In controlling behaviour the parent tries to tell the child forcefully about a certain course of action or activity. Temporary results are possible with the dictating attitude but in the long run the child will grow rebellious.
In the guidance pattern of
parenting
the child is engaged in a heartfelt discussion about the suitability of alternative courses of action. Discussions where the child has perceived control always works better as children appreciate it when their opinion is taken into consideration by adults.
Criticism vs. Feedback
One thing that mostly works in coordination with controlling behaviour is
criticism
. Criticizing a child often implies that you will be talking down to him or her and this usually either breaks the
confidence of the child
or inculcates a disrespectful attitude that actually stems from pent up resentment.
Child psychiatrists often prescribe feedback as a much more sustainable alternative where different behaviour options and alternatives are gently communicated. In guiding behaviour two way feedback systems is encouraged where the child and the parent both have the option of giving feedback to each other.
Ordering vs. Explaining
As and when kids start growing a little older they quickly develop the habit of questioning things. This is just a sign of a healthy
developing brain
and you as a parent should never try to suppress their natural curiosity. Ordering kids to do something that they have implicitly or explicitly refused to do in the first place is a negative way of trying to control them.
Usually, the child acquiesces out of fear but at the first chance flouts the rules again. Controlling behaviour usually does not produce sustainable results. Explaining is a much more productive technique where the "why" behind the "what" is also explained. Once children understand the logic behind why they are asked to do certain things or behave in a certain way they will be more willing to comply.
Compliance vs. Cooperation
Often with the demonstration of controlling behaviour, what parents get at the end is compliance or the pretence of compliance. When kids grow a little older they become very cunning and learn the art of just pretending to obey. Not only is this behaviour not morally correct but kids learn all sorts of wrong values like lying, subterfuge etc.
Cooperation happens when the child knows that his or her views are also taken into consideration, choices or alternatives are given and the option of saying "no" is also present. Therefore, they also learn that in the adult world it is expected to take others views into consideration before making a decision or reaching a conclusion. The guiding method always stresses on cooperation and that too willing cooperation.
As a parent even if you are psychologically provoked to take the short cut and try to control your kids, you should remember that guiding them always works better in the long run. Teach your kids the correct values in life by guiding them.

Why is it necessary to provide right guidance to kids? What are the ill effects of forcefully controlling kids? What is the difference between guiding kids and controlling them? Discuss here.