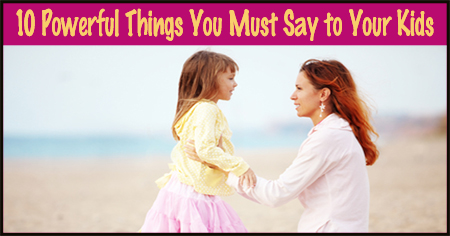 How do you keep your child's morale boosted? Parents can play an important role in boosting child's self-confidence. So, it is important for them to say encouraging phrases to children. Have a quick look at the 10 powerful things you must say to your kids so that they never give-up in life.
Kids should always be encouraged in every good endeavour that they do. Encouragement from the parents urges the kids the most to do better. So it is your words and actions that can influence your child. So always try to give a positive reinforcement to your kids. Never hurt them with low words.
Here are some phrases given that you may tell your kids for a feel good moment and of course for imbibing good
discipline
in them.
1. "You should never give up"
It may sometimes happen that after a
failure
your kid remains disappointed for some time, then using this phrase may boost up confidence in her, to try once more and win.
2. "Practice makes a man perfect"
It is a very old phrase. The more you practise the more perfection you can get out of a thing. This should be taught to children. If they want to become perfect, they should practise it more and more.
3. "You are safe and loved by all"
Children sometimes face with certain insecurities in life. This happens more when they are in the adolescence period. During this time they undergo with various kinds of emotional changes which can be cured only by love. If they are ensured that they are loved by all, serves as a relieving tonic to them.
4. "I trust you"
It is very important that you let your child know that you trust her. She will try to keep this trust unscathed. She will not do anything that she knows might break your trust. This will prevent her to commit any kinds of wrong doings in life.
5. "Say sorry when you make a mistake"
Teach your child from her early childhood days to
apologize
when she does a mistake. Teach her to say sorry. Let her understand that apologizing does not belittle anyone. You can apologize even to younger ones. It does not matter whether you are younger or older to the one to whom you are apologizing.
6. "You got what you deserve"
Confidence is very important in life for anything you do. Confidence can only be gathered if you are surrounded by positive energies. Giving positive thoughts to your kids builds up self reliance in them. Telling them that they deserve the best builds an urge in them to try out new ventures and urge to win those ventures.
7. "Believe in God"
Tell your kids that there is a Supreme power above who is watching every one and
punishes
the wrong doers. She should have faith in God, and should be God fearing. This will prevent her from committing any crime knowingly.
8. "Respect your elders"
Respecting elders is a part of disciplines. In order to get
respect
in return it is of utmost importance that they should learn to respect others.
9. "You are strong enough to handle this"
In order to encourage your kids these words work like magic. These words come as a relief to them when they are shattered due to their failures in something and need a mental boost up and support.
10. "You are capable of doing this"
In order to urge your child to do something these words may be used to make them grow interest in doing those activities. By doing this you can let them know that you believe them and know that they can make it possible to happen.
So try to engage your kids in a positive environment always. Never give up and never ask your kids to give up. Instead always try to push her up for newer and more interesting endeavours and be sure that if she continues trying she will surely make it up till the last.
How to teach children to handle ups and downs in life? How to encourage children? Which phrases should parents say to boost confidence of children? Discuss here.