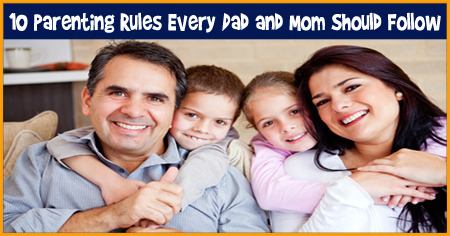 Here are top 10 parenting rules which every dad and mom should follow to raise happy and well-balanced kids.
Nilam and Rohan are proud parents of an 8 year old boy who is already going to enter into his preteens. Both of them are quite worried about dealing with their kid and want to know more about parenting rules that are essential for every dad and mom.
Why Parents Need to Be Careful
Parenting is not an easy job nowadays. In the recent time kids have many more things to get distracted easily making it difficult for their parents to handle them. Parents are the closest persons to their kids and they are always worried about their kids. Sometimes, the worries and care for the kids may compel the parents to behave in such a manner that they do more harm to their kids than helping them. Here are top 10 parenting rules for every dad and mom.
1. Spend Quality Time
Kids want their parents to spend time with them. Working parents have to be out of the house for a long duration but whenever they are at home, they must ensure that they are
spending quality time with their kids.
2. Understand Your Kid
To deal with the kids better, parents have to understand their kids. Some kids are vocal while other may introvert. Some kids may like to spend time with their friends while others may want to spend time at home. Parents have to take extra initiative to understand the nature of their kids so that they can deal with them accordingly.
3. Never Compare
Parents could hardly resist themselves when it comes to compare their kids with others. The main problem with the parents is that they want their kids to have all the good traits of other kids. This is not possible at all so accept your kid with all his or her virtues and vices. This will help the parents to remain close to their kids and become their friends.
4. Answer Your Child's Queries Earnestly
Most of the kids are very inquisitive and they want to know about everything in the world. Kids may come up with many weird questions but never discourage them. It is important that parents answer the queries of their kids without showing the signs of impatience or disgust.
5. Involve in Their Activities
Whether parents have a kid who is very young or a kid who is into preteens or teens, kids always appreciate when they find their parents are showing interest in their activities. For the teens,
parents' involvement
may sometimes be perceived as intervention so parents have to deal the situation carefully. But parental involvement in academics, sport and other extracurricular activities is very important as it can help to boost child's performance.
6. Never Discourage Your Child
Kids must be encouraged by their parents and discouragement lowers their
self-esteem.
Mistakes are common and they must be told about rectification of mistakes privately.
7. Be An Example
Parents are the role models for their kids so parents must set example for their kids. Kids learn seeing how their parents behave.
8. Respect Your Partner
Dads and moms must behave properly and show respect to each other so that kids also learn to respect their elders and others.
9. Say "No" Sometimes
Parents must not fulfil all the unreasonable demands of their children. At times parents must say "No" to the demands of the kids so that they understand that they cannot get whatever they want.
10. Never Yell, Shout or Hit Your Kids
Yelling, screaming, shouting and
hitting kids
are worst parenting habits which are used to discipline them. However, such parenting habits may hamper the development of kids. Such habits can even spoil their future. Therefore, it is essential for every parent to note detrimental effects of yelling at kids and hitting them and avoid such habits as much as they can.
Parents know their kids in and out and they are the best people to handle their kids. With the help of the above parenting rules, it would be easier for the parents to understand their children better and raise them in proper manner.
How to ensure right growth and development of kids? How to raise happy and well-balanced kids? Which parenting rules should be followed by every parent? Discuss here.