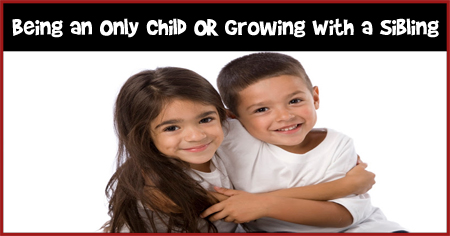 Are you an only child or do you have a sibling? Are you wondering if you should have a second child so that your son or daughter gets some company?



Being an only child is not always a matter of choice. Some couples go for a second baby because they feel that having only one son or daughter is not enough. Here are some tips to help you decide whether your child needs company and whether or not you should go for a second baby.
Siblings Share with Each Other
Children who have siblings often learn to share and care at a very young age itself. They learn to easily adjust with other kids in school because they already have one
sibling
at home. Sharing toys, clothes, eatables, etc helps them to understand the value of relations at a young age itself. Children who grow up with a sibling often have more respect for other children in school because they are habitual of having someone at home.

Easily Pampered or Spoilt

Being an only child increases the chances of your child becoming spoilt and over pampered. Guests who come home often shower all their gifts, attention, etc on the single child. Parents also end up pampering him or her too much because they are an
only child
. There are chances of such children becoming adamant because they are always used to getting whatever they want and whenever they want.
Siblings Play with Each Other

Having a sibling reduces the chances of boredom. There are fewer chances that your child may become bored. Even if your child has no friends near the house, there is always someone at home to play and enjoy with. Parents do not always have to be with the child. Siblings learn to adjust with each other and share secrets, etc. Children do not trouble Mom all the time because siblings are busy spending time with each other.
More Independence

Children who are alone have an advantage also. They can spend more time reading, etc. They do not have to fight with anybody for the remote or computer. There are fewer fights at home and parents are not always caught between the two. There are fewer chances of
jealousy
and
rivalry
creeping up when there is only child at home. You can save more money for one child's future and focus all your attention on him or her.
Being an Only Child can Become Boring

Kids with siblings always have someone to talk with at home. Having a sibling ensures that time flies. You are like a referee to your kids. The house is livelier with the constant sound of kids. There is no room for loneliness. Kids with siblings adjust well with other children also. They have more number of friends because they are two of them. Parents also have two kids to shower their love and affection on.
Couples Must Take the Decision

Based on your personal finances, position, etc parents must decide whether to have one or more kids. There are pros and cons of both. Children who are alone have certain advantages and children with siblings also have certain advantages. Parents must carefully evaluate all the options before opting for a second baby. You must decide whether you have the time, energy and resources to handle more than one child.
Children will always be the same whether they are one or two. Children are cute, interesting, innocent and wonderful. There is great joy in bringing up one or even two kids. You will have more than one child to shower all your love on if you are opting for second baby. Siblings learn to spend time with each other and always have someone to rely on even after growing up.
How does having a sibling benefit a child? What are the advantages of growing up as an only child? Is it necessary for children to grow-up with siblings? Discuss here.